VPX Module houses 2.5 in. SATA solid state drives.
Press Release Summary: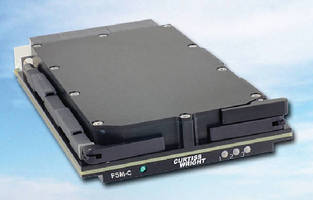 Configurable with 128 GB to 1 TB SSD storage capacities, 3U VPX Vortex FSM Carrier Module is suited for systems that require data transport, such as mission critical computers, sensor processors, mission recorders, instrumentation recorders, and embedded ISR applications. To ensure data security, internal SSD can be provided with Secure Erase or MIL Secure Erase features. When provisioned, these features can be initiated by ATA command over SATA lane.
---
Original Press Release:

Curtiss-Wright Controls Debuts Low-Cost Rugged, Removable Solid State Memory Module Carrier



3U VPX Vortex FSM-C Module houses High-Density Industry Standard 2.5" SATA drives



ASHBURN, Va. – Curtiss-Wright Controls Defense Solutions, a business group of Curtiss-Wright Controls, has introduced a new lost-cost, flexible solution for embedding rugged, high density SATA SSD drives into deployed compute platforms. The FSM Carrier (FSM-C) is a 3U VPX (VITA 48.2) module designed to securely house industry standard 2.5" SATA solid state drives (SSDs). The FSM-C can be configured with SSD storage capacities ranging from 128GB to 1TB (2TB capacity SSDs are expected to be available in 2014.) Because the Vortex FSM-C uses industry-standard direct-attached SATA SSDs it eases technology refresh, reduces the risk of obsolescence, and makes the board essentially "plug-and-play."  It also eliminates the need for system integrators to deal with software drivers, operating systems or processor types, which speeds and simplifies the deployment of removable industry-standard high-density SATA SSDs into embedded systems for defense and aerospace applications.  The FSM-C is ideal for use in systems that require data transport, such as mission computers, sensor processors, mission recorders, instrumentation recorders, and embedded ISR applications.



"The low-cost SATA SSD-based Vortex FSM-C complements our wide array of 3U VPX embedded system modules, including SBCs, switches and graphics display solutions, offering a cost effective approach to integrate data capture and transport," said Lynn Bamford, senior vice president and general manager of Curtiss-Wright Controls Defense Solutions. "The FSM-C meets the demands of the most rugged environments while providing very high density storage."



Data Security

The Vortex FSM-C is designed for system integrators seeking the most cost-effective, rugged solution for adding removable high-density storage to their embedded system. To ensure data security the FSM-C's internal SSD can be provided with Secure Erase or MIL Secure Erase features.  When provisioned, these features can be initiated by an ATA command over the SATA lane.  A variety of optional MIL Secure Erase algorithms can also be provided to meet the specific program or application security requirements. For those applications that require removable storage with very high level data protection, we offer our Vortex FSM, a rugged 3U VPX FIPS 140-2 certified 1 TB memory module with on-module support for AES256-bit encryption.



For more information, please download the Vortex FSM-C Factsheet.



For editorial information regarding Curtiss-Wright Controls Defense Solutions products or services, contact John Wranovics, public relations director, Curtiss-Wright Controls, Tel: (925) 640-6402; Email: jwranovics@curtisswright.com.



Sales inquiries: Please forward all sales and reader service inquiries to Jerri-Lynne Charbonneau, Curtiss-Wright Controls Defense Solutions, Tel: (613) 254-5112; Fax: (613) 599-7777; e-mail: defensesales@curtisswright.com.



For additional information on Curtiss-Wright Controls Defense Solutions please visit: www.cwcdefense.com.



About Curtiss-Wright Controls Defense Solutions

Curtiss-Wright Controls Defense Solutions is a long established technology leader in the development of rugged electronic modules and systems for defense applications. Defense Solutions serves as a technology and integration partner to its customers, providing a full range of advanced, highly engineered solutions from modular open systems approaches to fully custom optimized solutions. Our unmatched capabilities and product breadth span from industry standard based COTS modules to complete electronic subsystems. The company's modules and systems are currently deployed in a wide range of demanding defense & aerospace applications including C4ISR systems, unmanned subsystems, mission computing, fire control, turret stabilization, and recording & storage solutions. Additionally, the company's broad engineering capabilities combine systems, software, electrical, and mechanical design expertise with comprehensive program management and a broad range of life-cycle support services. For more information visit www.cwcdefense.com.



About Curtiss-Wright Controls, Inc.

Headquartered in Charlotte, N.C., Curtiss-Wright Controls is the Control segment of Curtiss-Wright Corporation. With manufacturing facilities around the world, Curtiss-Wright Controls is a leading technology-based organization providing niche motion control products, subsystems and services internationally for the aerospace and defense markets. For more information, visit www.cwcontrols.com.



John Wranovics

Director of Public Relations

Curtiss-Wright Controls Defense Solutions

jwranovics@curtisswright.com

Mobile: (925) 640-6402





Related