VPX Boards boost functional density.
Press Release Summary: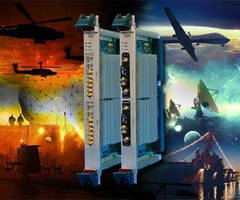 Suitable for data acquisition, software radio, and digital signal processing, 6U VPX Model 57xxx accommodates one Cobalt® Virtex-6 or Onyx® Virtex-7 FPGA XMC module, while Model 58xxx accommodates 2 XMC modules. Boards take advantage of increased I/O to backplane by adding optional LVDS lines from FPGA on each XMC to user pins of VPX backplane connectors. Optional x4 user-configurable gigabit serial links provide additional interconnect options between 2 installed XMC modules to VPX backplane.
---
Original Press Release:

Pentek Introduces NEW Line of 6U VPX Boards Boosting Functional Density and Performance



• Leverages Cobalt Virtex-6 and Onyx Virtex-7 FPGA XMC modules

• GateFlow FPGA Design Kit for custom IP development

• GateXpress for dynamic FPGA reconfiguration

• ReadyFlow libraries speed software development

• Built for rugged and commercial environments



UPPER SADDLE RIVER, NJ — Pentek, Inc., today announced the addition of 6U VPX boards to the Pentek product line: the Models 57xxx with one XMC module installed and the Models 58xxx with two XMC modules installed. These products extend the Pentek building block strategy of using Cobalt® Virtex-6 and Onyx® Virtex-7 XMC FPGA modules on carriers for open architecture industry-standard form factors.



Pentek's 6U VPX boards for data acquisition, software radio and digital signal processing offer flexible, gigabit serial fabric connections for demanding radar, beamforming, communications and signal intelligence applications. These new boards are designed for both lab and rugged environments with deployable conduction-cooling options.



Building Block Strategy for Modules

The 6U VPX Model 57xxx and Model 58xxx boards accommodate either one (57xxx) or two (58xxx) Cobalt or Onyx FPGA XMCs, significantly increasing the functional density of a VPX slot. With the 57xxx versions, users can install their own XMC module in the second site.



Board Connectivity

The 6U VPX boards take advantage of the increased I/O to the backplane by adding optional LVDS lines from the FPGA on each XMC to user pins of the VPX backplane connectors. Optional x4 user-configurable gigabit serial links provide additional interconnect options between the two installed XMC modules and to the VPX backplane.



"Our VPX product strategy leverages our wide range of proven FPGA-based XMCs featuring advanced IP cores and high-performance I/O, all fully supported with development software and FPGA design tools," stated Rodger Hosking, co-founder and vice-president of Pentek, Inc. "This strategy affords our customers faster delivery and increased performance, while reducing risks and speeding embedded system development."



Key functions of Pentek's 23 Cobalt and Onyx XMC FPGA modules can now be extended to 6U VPX systems for data acquisition, software radio and digital signal processing, including:



• Serial FPDP and LVDS digital I/O

• A/D converters with sampling rates to 3.6 GHz

• D/A converters with sampling rates to 1.25 GHz

• Digital down converters (DDC)

• Digital up converters (DUC)

• RF tuners to 4 GHz

• GSM (Global System for Mobile Communications) channelizers up to 2200 channels



For a complete 6U VPX product listing: http://www.pentek.com/vpx/vpx.cfm?HID2=SM



Development Tools and Software Support

Like the existing 3U VPX Model 52xxx and 53xxx series, the new 6U VPX Model 57xxx and 58xxx series take advantage of the same development tools as the Cobalt and Onyx XMCs, allowing programmers to migrate directly between hardware platforms.



The Onyx 6U VPX boards take advantage of Pentek's GateXpress PCIe Configuration Manager for dynamic FPGA reconfiguration, providing tremendous runtime programming flexibility and security. At power up, the GateXpress manager immediately presents a PCIe target to the host computer for discovery and enumeration, giving the FPGA time to load from FLASH. Once booted, the GateXpress manager offers multiple options for dynamically reconfiguring the FPGA with a new Intellectual Property (IP) image, handling the hardware negotiation and streamlining the loading task.



GateXpress allows the FPGA to be reprogrammed during development or deployment. The system does not have to power down to load IP into the FPGA. For additional security, IP code does not need to be stored in non-volatile memory, preventing retrieval or reverse engineering of IP code if the board falls into enemy hands.



For systems that require custom functions, IP can be developed using the Pentek GateFlow FPGA Design Kit, extending or even replacing the factory-installed functions.



Pentek ReadyFlow drivers and board support libraries are available for Linux and Windows operating systems. ReadyFlow includes example applications with full source code, a command line interface for custom control over hardware, and Pentek's Signal Analyzer, a full-featured analysis tool that continuously displays live signals in both time and frequency domains.



Pricing and Availability

Pricing starts at $11,995 USD. Options are available for larger FPGAs, serial interface lines, and LVDS FPGA I/O. Delivery is 8 to 10 weeks ARO. The 6U VPX Model 57xxx and 58xxx series are designed for both commercial and rugged environments.



About Pentek

Pentek, an ISO 9001:2008 certified company, designs, manufactures and markets innovative COTS and rugged DSP boards and system recorders for commercial, government and military systems, including radar, communications, medical and industrial control applications. Pentek offers powerful VME, VPX, PMC, XMC, cPCI, PCIe, FMC and AMC boards for data acquisition, software radio and digital signal processing featuring Xilinx FPGAs. Pentek's high-speed real-time recording systems are pre-configured and can be used in the lab or deployed in the field. Pentek equips all boards and recorder products with high-performance I/O including gigabit serial interfaces, powerful software development tools and offers strong DSP software support.



Follow Pentek on LinkedIn

Follow Pentek on Twitter



Pentek, Cobalt, Onyx, and ReadyFlow are trademarks or registered trademarks of Pentek, Inc. Brand or product names are registered trademarks or trademarks of their respective holders.



For access to the release and data sheets, please visit: http://www.pentek.com/whatsnew/viewrelease.cfm?index=196



North American Sales Contact:

Mario Schiavone, Pentek, Inc.

One Park Way

Upper Saddle River, NJ 07458-2311

Telephone 201-818-5900

Fax 201-818-5904

Email news@pentek.com

Website www.pentek.com







More from Cleaning Products & Equipment