Voltage Regulators are used in harsh operating environments.
Press Release Summary: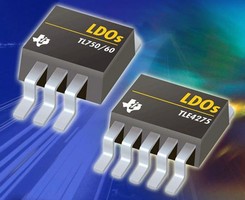 With input voltage range of up to 45 V, LDO linear regulators offer transient protection for applications such as automotive body controllers and instrument clusters. Models TLE4275QKTTRQ1, TL750M05QKTTRQ1, and TL760M33QKTTRQ1 provide direct connection to vehicle battery with ability to withstand load-dump transient conditions. Available in 3.3, 5, and 8 V fixed-output-voltage versions, units feature 450-750 mA maximum rated output currents, and offer thermal shutdown, and over-voltage protection.
---
Original Press Release:

TI Introduces High Voltage-Input LDO Regulators for Harsh Environments



Automotive-Qualified Devices Support Wide Input Range up to 45 V, Reduce External Component Count

DALLAS (October 11, 2006) -- Texas Instruments Incorporated (TI) (NYSE: TXN) today introduced a family of high voltage-input low-dropout (LDO) linear regulators designed to withstand the requirements for harsh operating environments. The new devices offer a wide input voltage range of up to 45 V, providing transient protection for applications such as automotive body controllers, instrument clusters, automotive audio and telematics (www.ti.com/sc06192).

The TLE4275QKTTRQ1, TL750M05QKTTRQ1 and TL760M33QKTTRQ1 are the first devices from TI to provide a direct connection to the vehicle battery with the ability to withstand load-dump transient conditions, reducing the number of external components needed to protect the LDO. Output stability has been optimized for typical automotive applications and low-cost capacitors.

Additional Key Features

o 450-750 mA maximum rated output currents
o Load-Dump, thermal shutdown and over-voltage protection
o 3.3 V, 5 V and 8 V fixed-output-voltage versions
o Power-on and under-voltage reset (TLE4275-Q1)
o Industry-standard TO-263 (D2PAK) packages for maximum power dissipation


Device	  TLE4275QKTTRQ1  TL750M05QKTTRQ1  TL750M08QKTTRQ1  TL760M33QKTTRQ1

VIN	   5.5 - 42V	     6 - 26V	     9 - 26V	       3 - 26V

VOUT	       5V	      5V	       8V	        3.3V

IOUT	      450mA	      750mA	      750mA	        500mA

Load Dump      45V	       60V	       60V	         45V

Reset	       Yes 	        No	        No	          No

Package	    D2Pak/TO-263   D2Pak/TO-263	    D2Pak/TO-263       D2Pak/TO-263

The devices extend TI's extensive portfolio of LDO regulators that cover applications with output currents that range from microamp keep-alive circuits to 7.5-A telecom loads. Additional TI power management products are available at www.power.ti.com.

Availability

The TLE4275QKTTRQ1, TL750M05QKTTRQ1 and TL760M33QKTTRQ1 are available in volume from TI and its authorized distributors in automotive-qualified 3- and 5-pin D2PAK (KTT) packages.

TI is committed to the automotive market, providing OEMs and system suppliers with a broad digital and analog portfolio of superior-quality, reliable, innovative and cost-effective solutions. TI products address electronics in the car for systems ranging from power train to braking to audio and infotainment. The company has achieved ISO/TS16949:2002 certification at 36 facilities worldwide. For more information on TI's automotive products, please see www.ti.com/automotive.

About Texas Instruments

Texas Instruments Incorporated provides innovative DSP and analog technologies to meet our customers' real world signal processing requirements. In addition to Semiconductor, the company includes the Educational & Productivity Solutions business. TI is headquartered in Dallas, Texas, and has manufacturing, design or sales operations in more than 25 countries.

Texas Instruments is traded on the New York Stock Exchange under the symbol TXN. More information is located on the World Wide Web at www.ti.com.

Please refer all reader inquiries to:
Texas Instruments Incorporated
Semiconductor Group, SC-06192
Literature Response Center
14950 FAA Blvd.
Fort Worth, TX 76155
1-800-477-8924

More from Electrical Equipment & Systems