Voltage Detector can detect 44 kV from up to 30 ft away.
Press Release Summary: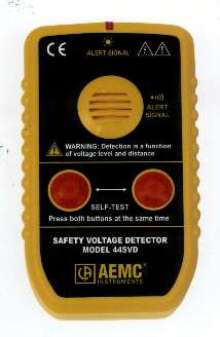 Personal Voltage Detector, Model 44SVD detects voltage from 2.4 kV and up without physical contact. As unit is moved closer to voltage-carrying conductor, AC sensor plate picks up radiated electric field, which is amplified and processed by internal circuitry. Once process signal is above threshold, it triggers input of integrated circuit, which turns on both buzzer and LED. Detector includes pocket-sized case with built-in belt clip.
---
Original Press Release:
AEMC® Introduces Personal Voltage Safety Detector

The Personal Voltage Detector Model 44SVD is designed to detect high voltage from 2.5kV and up without physical contact. It detects 44kV from up to 30 ft away.

As the Model 44SVD is moved closer to the voltage-carrying conductor its AC sensor plate picks up the radiated electric field. The electric field is amplified and processed by the internal circuitry. Once the processed signal is above the threshold, it triggers the input of an integrated circuit, which turns on both the buzzer and LED.

The rugged pocket sized case has a built-in clip to attached to outer clothing or a belt.

Price: $295.00

Submitted by:

Laura C. Mahoney, Marketing Communications Manager

AEMC® Instruments

200 Foxborough Blvd.

Foxborough, MA 02035-2872

(508) 698-2115

(508) 698-2118 (fax)

Imahoney@aemc.com

Technical Contact:

Howard Myers, Application Engineer

techsupport@aemc.com
Related