Volk Corporation Announces New Stairglow® Photoluminescent Emergency Egress Products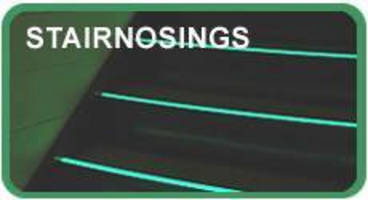 FARMINGTON HILLS, MI -- (March 29, 2010) - Mr. Bill Woolfall, President, Volk Corporation, announced today the introduction of Volk's patented new Stairglow® brand (Stairglow.com) of photoluminescent emergency egress products. These innovative products provide facilities managers, architects, safety and construction companies a permanent, low cost/ high value solution for the 2009 International Fire Code and GSA regulations requiring photoluminescent emergency egress systems in high rise stairwells.

The flagship products in the Stairglow brand are the one piece anti-slip photoluminescent stair nosings and the snap-on photoluminescent hand rail covers. The brand is rounded out by durable low level exit door kick plates, door handle markers, stair risers, egress signage and photoluminescent tapes.

The Stairglow stair nosing's unique design incorporates code compliant photoluminescent and anti-slip features which are molded into the tread. This eliminates any possibility of delamination, and does away with the ongoing maintenance, repair and replacement costs of tapes, paints and other products. For venues such as arenas and theaters where aesthetics are critical, Stairglow stair nosings can be produced in any color to provide a striking appeal to the overall interior environment. Stairglow stair nosings are priced substantially below competing brands with similar durability and deliver far greater cost saving and aesthetic benefits.

Mr. Woolfall also announced that Volk Corporation is in the process of partnering with Stairglow Resellers around the country and expects to announce several partnerships within the coming weeks. He said that the Stairglow brand was developed to offer a bolt-on business opportunity to companies in the electrical contracting, lighting, life safety and building security industries. In his release Mr. Woolfall commented, "photoluminescent emergency egress is both an opportunity and potential threat to several industries. As a supplement to current electrical lighting systems it is a value-added fail-safe egress system. However, current discussions by the ICC considering the possible replacement of higher cost emergency lighting with lower cost and more reliable photoluminescent materials in some applications, pose a potential threat to the emergency lighting industry. We have developed the Stairglow line to cover all of these bases for our Reseller partners. The breadth of the line allows our partners to address virtually any customer need and the depth of the line allows our partners to address the full scale of their customer's budgets and durability requirements."

Since 2005 Volk Corporation (incorporated 1890) has been a leader in the emerging photoluminescent emergency egress industry with placements of its Safety Step line in high profile arenas and federal buildings around the country. Most notably but not limited to The Palace of Auburn Hills, The St. Pete Times Forum, The AT & T Center in San Antonio and high rise federal buildings in Manhattan, Chicago, Atlanta, Minneapolis and St. Paul.

Stairglow stair nosings and the entire Stairglow brand of photoluminescent handrail covers, signage, tapes and emergency egress markings can be viewed at Stairglow.com .