VoIP Testing Software visualizes and analyzes traffic.
Press Release Summary: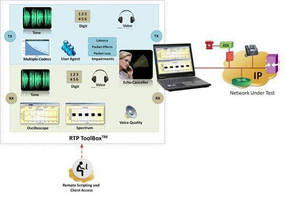 RTP ToolBox(TM) helps test, simulate, and monitor voice traffic carried by RTP/RTCP packets. Working with onboard NIC, all tools are available for diagnosing VoIP call quality problems. Voice Activity Detection support for G726 series codecs is supplemented by support for EVRC-C Codec, INFO and REFER methods, TCL 8.5 CLI interface, and WinPcap v4.1.2. Software also offers codec parameter configuration and SIP dial interface that supports call dialing/receiving from all supported codecs.
---
Original Press Release:

GL Announces Enhanced RTP ToolBox(TM) Software



Gaithersburg, Maryland, USA - GL Communications Inc. announced today the release of its enhanced RTP ToolBoxTM software - A tool that helps test, simulate & monitor voice traffic carried by RTP & RTCP Packets.

Speaking to newsmen, Mr. Vijay Kulkarni, CEO of the company said," VoIP technology is permeating the telephone network and pretty soon the majority of telephone traffic will be carried by VoIP, whether wired or wireless. It's attractive because if designed correctly, it can be higher quality than conventional analog connections. End to end digital is far better than analog-digital-analog connections. Many codecs like wideband G.722 are much better than G.711; 8 kHz bandwidth vs. 4 kHz. Also, there are many convergence benefits e.g. integration with e-mail, portability, and ease of management."

He added, "RTP ToolBox(TM) can be a powerful tool to visualize and analyze VoIP traffic. In one software package, working with your onboard NIC, all the tools are available for diagnosing VoIP call quality problems. Then start enjoying the benefits of higher quality, lower cost, and all that is advertised."

Mr. Kulkarni further added, "RTP ToolBox(TM) is designed to generate and monitor RTP and RTCP packets independent of call-signaling protocols such as SIP, H323, MEGACO, or MGCP. However standard SIP is also supported. The tool is perfect for testing and developing enhanced voice features like Voice Activity Detection (VAD), echo cancellation, a host of different codecs, digit detection, digit generation, Fax over IP, jitter implementation, and much much more. It can be used to test end-user equipment such as IP phones, Analog Telephone Adapters (ATAs), and Gateways and Routers that support VoIP".

Recent Enhancements

Voice Activity Detection (VAD) support for G726 series codecs - don't you wish they would get rid of VAD, I mean they've compressed enough already. To see if VAD is the culprit, you can make calls with and without VAD.

EVRC-C Codec support - Yet another codec that gives you more bang for the buck.

'CodecOptions.ini' file to configure parameters such as Packetization-Time, Payload-Type, Codecs, and Codec Options for User Agent SIP call generation

Enhanced SIP Dial Interface can now dial or accept calls from all supported codecs.

Support for the INFO and REFER methods

Command Line Interpreter (CLI) Enhancements for RTP, RTCP, R-Factor and MOS statistics

Support for TCL 8.5 CLI interface. The TCL interface supports call placing commands

Re-Register Facility and expiry time for registration

Support for WinPcap 4.1.2

About GL Communications Inc.,
Founded in 1986, GL Communications Inc. is a leading supplier of test, monitoring, and analysis equipment for TDM, Wireless, IP and VoIP networks. Unlike conventional test equipment, GL's test platforms provide visualization, capture, storage, and convenient features like portability, remotability, and scripting.

GL's TDM Analysis & Emulation line of products includes T1, E1, T3, E3, OC-3, OC-12, STM-1, STM-4, analog four-wire, and analog two-wire interface cards, external portable pods, and complete system solutions. Capabilities include voiceband traffic analysis and emulation across all traffic types (voice, digits, tones, fax, modem), all protocols (ISDN, SS7, GR-303, Frame Relay, HDLC, V5.X, ATM, GSM, GPRS, LTE, etc.), and with capacities up to thousands of channels. Our newest products provide astonishing capacity and capture capability up to and including gigabit speeds.

GL's VoIP and IP products generate / analyze thousands of calls and traffic simultaneously with traffic types such as frames, packets, voice files, digits, video, tones, noise, and fax. Almost all codecs are supported including G.711, G.729, AMR, EVRC-A,B,C, GSM, iSAC, and many more. Additional features include visual analysis, real-time listening, and recording. The product line also includes Ethernet / IP Testing capability that simulates and checks frame transport and throughput parameters of Ethernet and IP networks, including delay, errors and other impairments.

GL's Voice Quality Testing (VQT) product line complements all of GL's products. Using ITU-standard algorithms (PAMS, PSQM, and PESQ), GL's VQT provides a widely accepted solution for assessing voice quality in the telecom industry. Voice Quality Testing across multiple networks (T1, E1, T3, E3, OC-3, OC-12, VoIP, Wireless, and Landline) are all available.

GL's Wireless Products perform protocol analysis and voice quality assessment on GSM, CDMA, UMTS, and LTE networks. Connections can be made to any wireless phone with automated call control, GPS mapping and real-time signal measurements.

GL's Echo Canceller testing solutions provide the broadest range of simulation and analysis, including line and acoustic echo. GL's compliance testing per G.168. G.167, and P.340 across TDM, IP, VoIP and Wireless networks is widely accepted in the industry.

GL's wireless VQT solutions help assessing impairments to voice quality such as poor mobile phone quality, voice compression and decompression algorithms, delay, loss and gain in speech levels, noise, acoustic and landline echo, and other distortions are easily assessed and accurately measured.

GL's Handheld data testers can test a wide variety of communications facilities and equipment including T1, fractional T1, E1, fractional E1, T3 and E3 modems, multiplexers, CSU, DSUs, T1 CSUs, DTUs, NTUs and TIUs and more. The testers provide convenience, economy, and portability for almost any interface, including RS232, RS-422, RS-530, X.21, T1, E1, T3, E3, and many others.

GL's Network Surveillance and Monitoring products include Probes for TDM, IP, VoIP, ATM, and Wireless networks. An open standards based approach provides a scalable, feature rich, real-time access to network characteristics. Centralized or distributed access, efficient transport and database loading allow compatibility with 3rd party and standards based monitoring systems.


More from Fluid & Gas Flow Equipment