Voice Recognition Module facilitates system design.
Press Release Summary: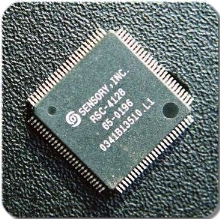 Based on 8-bit RSC-4128 IC, VR Stamp(TM) enables integration of voice recognition into consumer, industrial, automotive, and medical electronics. IC delivers speech recognition, synthesis, and system control. Flash memory, serial EEPROM, clock crystals, and power noise management components are all packed into standard 40-pin DIP footprint. FluentChip(TM) software offers speech recognition, speaker verification, speech compression and output, and music synthesis.
---
Original Press Release:

Sensory Debuts Ultra-Compact Voice Recognition Module


Low-Cost VR Stamp(tm) Facilitates Quick System Design

SANTA CLARA, Calif., July 26, 2005-----Sensory, Inc., the world leader in embedded speech technologies, today released the VR Stamp(tm) module, providing easy integration of voice recognition (VR) into consumer, industrial, automotive and medical electronics. The heart of the VR Stamp module is the RSC-4128 integrated circuit, the latest member of Sensory's award-winning RSC Family of mixed signal processors that provide speech recognition, synthesis and system control on a single chip. All of the additional components required for a functional speech recognition system are squeezed into the VR Stamp's ultra-compact footprint. With minor hardware interfacing additions, any electronic product can recognize and speak with the VR Stamp.

"The VR Stamp makes it quick and easy for a developer to incorporate voice recognition and speech synthesis into products such as set top boxes, medical instrumentation, industrial controls, and much more," notes Bill Teasley, Sensory's vice president of engineering. "This new product virtually eliminates system design obstacles, making it practical to add the exciting new option of speech input and output to any human interface. Imagination is the only limitation."

Complete Speech Recognition System on Board
The VR Stamp module includes a fully functional system based on Sensory's RSC-4128 mixed signal processor, a powerful 8-bit microcontroller inside a voice recognition system on a chip (including 16-bit ADC, DAC, digital filtering, RAM, ROM, output amplification, timers, comparators and more). In addition, flash memory, serial EEPROM, main clock and real time clock crystals, along with power noise management components, are all densely packed into its standard 40-pin DIP footprint. The VR Stamp can act as a speech recognition slave, or be the primary host controller of the end product along with providing the speech recognition features. Sensory's FluentChip(tm) software is included and provides high-accuracy speech recognition, speaker verification, speech compression and output, music synthesis, as well as diagnostic and utility programs. The VR Stamp modules sell for under $30 in volume, and can handle multi-level menus of speech recognition command sets and speech synthesis prompts.

Development Tools Cut Time to Market Dramatically
Not only does the VR Stamp significantly simplify hardware system design, the VR Stamp Toolkit makes the development of speech command sets, speech synthesis prompts, music, speech I/O application design and end product circuit design, a snap. The VR Stamp Toolkit includes Quick T2SI - Lite(tm), a special edition of Sensory's highly-acclaimed Quick T2SI(tm) tool that allows speaker-independent vocabulary set development using simple text input to create the desired commands. Also included is Quick Synthesis(tm), which will compress digital recordings of speech prompts in seconds and supports easy scoring of MIDI-like music; a C-compiler for efficient programming; an Integrated Development Environment for easy project management; and a VR Stamp Programming Board, which connects to a PC, via USB, for downloading executable code to the VR Stamp module. Sample programs and circuit designs familiarize the developer with possible applications for Sensory's technologies and insure a quick product development cycle. International languages are supported by the Quick T2SI - Lite tool, making manufactured goods, using the VR Stamp, accessible around the world. The complete VR Stamp Toolkit, with QuickT2SI - Lite, C-Compiler, Quick Synthesis, 2 VR stamps, a VR Stamp Programming Board, and more, retails for $495.

About Sensory, Inc.
Sensory, Inc. is the world leader in embedded speech technologies. Sensory offers a complete line of IC and software-only solutions for speech recognition, speech & music synthesis, speaker verification and other voice and audio technologies. Sensory's customers are leaders in consumer electronics and include Avon, Fisher-Price, Hasbro, JVC, Kenwood, Matsushita, Mattel, MGA, Mitsubishi, Radica, Sega, Sharper Image, Sony, Tektronix, Toshiba, Uniden, and many others. The Interactive Speech(tm) line of low-cost ICs includes the award-winning RSC Series (general-purpose microcontrollers using FluentChip technology for speech I/O), SC Series (music and speech synthesis) and the SVC biometric voice chips. Sensory's FluentSoft embedded software products are available on a range of hardware platforms from microcontrollers to DSPs. Sensory, Inc. is located at 1991 Russell Avenue, Santa Clara, CA 95054-2035. The company can be found on the web at www.sensoryinc.com.

More from Agricultural & Farming Products