Voice/Data/Fax Modem suits embedded systems applications.
Press Release Summary: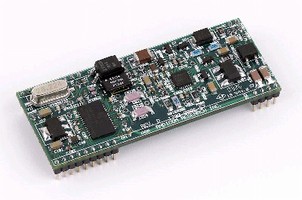 Measuring 1.0 x 2.5 x 0.2 in., SlimModem2(TM) offers direct pin-for-pin replacement for Conexant SocketModem(TM). It requires only serial TTL interface and phone line access to provide data, fax, and voice operation. Self-contained, RoHS-compliant unit includes built-in data pump, modem controller, and onboard International DAA. Supporting 3.3-5 V operation, modem features data rates from 300 bps to 56 Kbps, 14.4 Kbps fax rate, and voice playback and recording.
---
Original Press Release:

Radicom's SlimModem2 Challenges SocketModem For Embedded Applications



RADICOM RESEARCH SLIMMODEM2(TM) CHALLENGES CONEXANT SOCKETMODEM WITH DIRECT PIN FOR PIN COMPATIBILITY

FEATURE-RICH, LOWER-COST MODEM IS NEW CHOICE FOR EMBEDDED DESIGNS

SAN JOSE, Calif - July 18, 2006 - Radicom Research, Inc., a leading designer and manufacturer of dial-up and wireless RF modems for embedded systems applications, announces immediate availability of its SlimModem2(TM), a direct pin-for-pin replacement that outperforms the Conexant SocketModem(TM) with more features and a lower price.

The SlimModem2 is a reliable, slim-profile voice/data/fax module featuring ultra-low power consumption, high performance and a footprint that integrates easily into a wide range of existing OEM product configurations.

Measuring just 1.0" x 2.5" x 0.2", the SlimModem2 is loaded with advanced features that allow embedded applications designers to add modem functionality to virtually any product platform without taxing engineering resources. It requires only a serial TTL interface and phone line access to provide data, fax and voice operation. The modem's fast connection provides a simple but effective approach to data collecting, logging, remote diagnostics and communications.

"The SlimModem2 outperforms the Conexant SocketModem with more advanced features and a lower price tag," said Alex Tsau, Vice President of Operations for Radicom Research. "Its pin-for-pin compatibility lets manufacturers begin saving money and gaining features immediately by simply switching to our better, less-expensive SlimModem2."

Complete Compatibility, Lower Price
Radicom's SlimModel2 costs even less than the lowest-quality SocketModem, but offers more standard features. As a direct pin-for-pin replacement, OEM production lines require absolutely no retrofitting to reduce costs by upgrading to the SlimModem2.

The SlimModem2 is EN60601-1 Medical Device EMC compliant. It meets all RoHS compliance directives, bears the CE Marking, and conforms to all standards required for immediate shipping to Europe and most countries.

The SlimModem2 is fully self-contained and includes a built-in data pump, modem controller and on-board International DAA. Standard features include data rates from 300 bps up to 56 kbps, 14.4 kbps fax rate, voice playback and recording.

Summary of Features:
Pin-for-pin compatible with SocketModem(TM)
-40oC to +85oC operating temperature
RoHS complaint
CE Marking
Meets EN60601-1 directives
Supports 3.3V to 5V operation
14.4 kbps up to 56 kbps data speeds downstream
Upstream data rate up to 48 kbps (V.92 SM2)
14.4 kbps Fax - Class 1
Voice playback and record
Concurrent DTMF, distinctive ring and caller ID

Designers can choose features required per their product specifications, or choose from one of Radicom's proven off-the-shelf designs. Handset interrupt, line-in-use and connection detection features allow the modem to share a phone line with other equipment, eliminating the cost of a dedicated phone line. Features like DTMF tone detection and generation, voice record and playback allow the ultimate flexibility for system designers to easily implement the SlimModem2's versatile functionality into their products.

The SlimModem2 serial TTL interface comes with an optional low-power sleep mode feature and call-waiting detection, and operates with standard AT commands. Built-in digital line guard protection automatically detects an overcurrent on tip and ring, preventing the modem from being damaged when accidentally connected to a digital telephone system.

Applications
Medical devices, POS terminals, gaming devices, vending machines, remote monitoring and data collection systems, industrial monitoring systems, home security networks, handheld computers, back-up communication systems and any small footprint device that needs to communicate data reliably with low power consumption.

Pricing and Availability
Radicom Research's SlimModem2 is available now.
Prices begin at US$29.00 in quantities of 1,000 or more.

About Radicom Research, Inc.
Founded in 1993, Radicom Research is committed to developing reliable, high-quality, simple to implement dial-up and wireless modems, competitively priced for OEMs, designers and industrial customers. Headquartered in San Jose, California, with offshore manufacturing capabilities, Radicom's OEM customers include Cisco Systems, Diebold, Hewlett-Packard, Siemens and Xerox.

Radicom's award-winning Half-Inch Modem(TM) is now feature-for-feature compatible with the Conexant SocketModem, and occupies 60% less space (1" x 2.5" vs. 1.0" x 1.0"). OEMs migrating to the Half-Inch Modem gain greater design flexibility with the additional space, which can be utilized to provide additional value-added features to their product lines. The Half-Inch Modem is interchangeable with the Radicom wireless WHM900(TM) RF Modem, giving designers the choice of wireless or dialup connection within the layout of a single system board.

Radicom works closely with its customers to ensure their embedded data communications systems are successfully integrated at the lowest cost with the highest capability. Radicom modifies its award-winning modems to meet specific application requirements, and designs custom components to fit special needs, maintaining the fastest turn-around time in the industry. R&D efforts are focused on raising performance standards for small footprint data-communication components embedded in applications across a spectrum of industries.

OEMs and designers are invited to contact Radicom Research for consultation on modems for embedded systems applications. Phone: 1-408-383-9006, ext. 112; Fax: 1-408-383-9007; Email: sales@radi.com; Website: www.radi.com.

More from Communication Systems & Equipment