Voice-Coil Actuator features total stroke of 2.0 in.
Press Release Summary: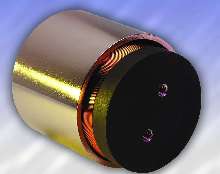 Model LA100-90-001 cylindrical voice-coil linear actuator offers continuous stall force of 290 lb and peak-force rating of 550 lb. Hysteresis free, cog free, 2-terminal, direct-drive linear servo features infinite position sensitivity. Unloaded acceleration capability is 12.8 g continuous and 24 g for 10 sec. Center hole is 2.80 in. for linear-bearing installation, forced ventilation, cable runs, optical paths, or sensor installation.
---
Original Press Release:

World's Largest and Most Powerful Voice Coil Actuator


San Marcos, Calif., January, 2003 - BEI Kimco Magnetics Division of BEI Technologies, Inc. has introduced the world's largest and most powerful Voice Coil Actuator. The model LA100-90-001 is a cylindrical voice coil linear actuator featuring a total stroke of 2.0 in. (50.8 mm), a continuous stall force of 290 lb. (1.29 kN) and a peak force rating of 550 lb. (2.45 kN) (for 10 seconds max.). It is a two-terminal, hysteresis free, cog free, direct drive linear servo with infinite position sensitivity and features a linear force constant characteristic for simple control.

Model LA100-900-001 finds use in applications such as vibration control, seismology, die drawing, training simulators and other applications where precise, direct control of motion and force is required.

Unloaded acceleration capability is 12.8 g's continuous and 24 g's for 10 seconds.

Model LA100-90-001 features a 2.80 in. (71mm) center hole for linear bearing installation, or forced ventilation, or other requirements such as cable runs, optical paths or sensor installation.

Basic dimension: 10.3 in. (261.6mm) x 9.0 in. (228.6mm) long with coil assembly at mid-stroke.

Consult factory for prices.

About BEI Kimco Magnetics
BEI Kimco Magnetics Division is an operating division of BEI Technologies, Inc. (Nasdaq: BEIQ). BEI is an established manufacturer of electronic sensors and motion control products used for factory and office automation, medical and scientific equipment, military, aviation and space systems, and transportation equipment including automobiles, trucks and off-road equipment. The company's product portfolio includes optical encoders, brushless DC motors, voice coil actuators, potentiometric position sensors, silicon micro-electromechanical (MEMS) devices, rotation rate sensors, pressure transducers, and servo systems.

For more information, contact BEI Kimco Magnetics Division at 804-A Rancheros Drive, San Marcos, Calif., 92069; Phone (800) 572-7560; Fax (760) 744-0425; E-mail: sales@beikimco.com; Immediate details and specifications can also be found on the BEI Kimco website: www.beikimco.com

More from Software