Voice Coil Actuator features integral LVDT sensor.
Press Release Summary: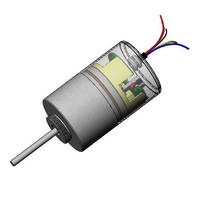 Model LAS10-20-001 can be mounted into hand-held wands and used in reciprocal medical applications. Actuator has stroke of 0.2 in. and exerts 17 oz of force. It offers direct drive, zero cogging, zero hysteresis, and infinite set-ability. User can control velocity, position, force, reciprocation, and acceleration in applications such as valve control, beam steering, clamping, and servo-control of X, Y, and Z axes.
---
Original Press Release:

Voice Coil Actuator with Integral LVDT Sensor


San Marcos, Calif., May, 2003 - BEI Kimco Magnetics Division of BEI Technologies, Inc. introduces its new voice coil actuator with an integrated position sensor. Model LAS10-20-001 integrates an LVDT position feedback sensor for servo positioning or velocity control. It can be mounted into hand-held wands and used in reciprocal medical applications, like skin-abrasion and tissue stimulation. This servo-ready device is compatible with the company's model VCA-100 controller. Users can control velocity, position, force, reciprocation, and acceleration in applications such as valve control, beam steering, clamping, and servo-control of the X, Y, and Z axes.

This compact actuator measures 2.5", has a stroke of 0.2", and exerts 17 oz. of force.
It offers the following advantages:
o Direct Drive
o Zero Cogging
o Zero Hysteresis
o Infinite Set-ability (limited only by the accuracy of the sensor)

In applications where high speed, high reliability, extreme accuracy, and superior performance are vital, this new actuator and its integrated sensor may be the right match.

Consult factory for prices.

About BEI Kimco Magnetics
BEI Kimco Magnetics Division is an operating division of BEI Technologies, Inc. (Nasdaq: BEIQ). BEI is an established manufacturer of electronic sensors and motion control products used for factory and office automation, medical and scientific equipment, military, aviation and space systems, and transportation equipment including automobiles, trucks and off-road equipment. The company's product portfolio includes optical encoders, brushless DC motors, voice coil actuators, potentiometric position sensors, silicon micro-electromechanical (MEMS) devices, rotation rate sensors, pressure transducers, and servo systems.

For more information, contact BEI Kimco Magnetics Division at 804-A Rancheros Drive, San Marcos, Calif., 92069; Phone (800) 572-7560; Fax (760) 744-0425; E-mail: sales@beikimco.com; Immediate details and specifications can also be found on the BEI Kimco website: www.beikimco.com

More from Thermal & Heating Equipment