Voice-Band Analyzer offers near real-time analysis.
Press Release Summary: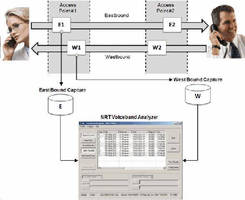 Designed for monitoring quality of voice-band traffic over TDM, VoIP, and wireless networks, Near Real-time Voice-Band Analyzer has variety of built-in algorithms, including ITU-T P.56 Active Voice Level analysis and Line Echo (Hybrid) analysis. Licensed modules include 2-Wire Echo Analysis, Traffic Classifier, and Fax analysis. Application supports A-Law, µ-Law, 16-bit PCM (Intel), 16-bit PCM (Motorola), MS Wave, G.726 (40, 32, 24, and 16 Kbps), and G.722 (64 Kbps) file formats.
---
Original Press Release:

GL Announces Enhanced Real-time Voice-band Analyzer



Gaithersburg, Maryland, USA – GL Communications Inc., announced today its enhanced Near Real-time Voice-band Analyzer  –  An analysis tool for monitoring the quality of voice-band traffic over TDM, VoIP and Wireless networks.



Speaking to the press, Mr. Jagdish Vadalia, a Senior Manager for product development of the company said, 'The Near Real-time Voice-band Analyzer (VBA) is a versatile analysis tool that help monitoring voice band traffic over variety of networks including VoIP, TDM, 2-Wire and Wireless.  It can host an arbitrary number of analysis algorithms. 



Built-in algorithms include ITU-T P.56 Active Voice Level analysis, Line Echo (Hybrid) analysis, and licensed modules include 2-Wire Echo Analysis, Traffic Classifier and Fax analysis.  Other analysis modules such as ITU-T P.561, P.562, and P.563 can also be hosted as plug-ins."



He added, "The VBA application operates on previously captured files, making it a near-real time (as opposed to a strictly real-time) tool.  It supports A-Law, µ-Law, 16-bit PCM (Intel), 16-bit PCM (Motorola), MS Wave, G.726 (40 Kbps, 32 Kbps, 24 Kbps, and 16 Kbps), and G.722 (64 Kbps) file formats.



VBA records its output into two files, the first containing overall channel measurements, and the second containing event records.  It produces summary measurements of the captured signals, including active speech levels, noise level, percent time active, DC offset and the like."



Mr.Vadalia further added, "The optional VBA FaxScan™ module can be used to analyze both 2-wire and 4-wire voice-band captures for Fax traffic and output fax signaling frames in a log file and fax image in TIFF format.



VBA works in conjunction with GL's TDM, Packet, and Wireless non-intrusive capture products: VBA with GL's TDM T1 E1 Call Capture and Analysis, orVBA with GL's VoIP PacketScan™ / MLPPP Analyzer, VBA with GL's GSM, CDMA, and 3G Call Capture Products, and VBA with GL's 2-Wire Voice/Data Capture Products."



Some of the Important Features




Near real-time (NRT) non-intrusive analysis platform



Supports 1, 2, 3, and 4-port signal data analysis



Manual, batch, and automatic processing modes



Accepts A-Law, µ-Law, 16-bit PCM (Intel), 16-bit PCM (Motorola), MS Wave, G.726 (40 Kbps, 32 Kbps, 24 Kbps, and 16 Kbps), and G.722 (64 Kbps) input data formats



Allows to implement Psophometric and C-Message signal conditioning before the Active Speech Level analysis; reports C-Message filtered files in dBrnC



VBA Algorithms (Built-in and Optional)




Active Speech Level measured in accordance with P.56 Method B



Hybrid Echo analysis module for Line Echo measurement. It outputs Echo Return Loss - ERL (dB), Echo Delay (ms), and Echo Dispersion (ms) values



Traffic Classifier to detect, classify, and display the amount of traffic – whether its Fax, Voice, Digits , Tones, or Silence present in the network



FaxScan™ used to analyze voice band traffic files for Fax traffic on 2-wire or 4-wire captures.  It outputs fax signaling frames in a log file and Fax image in TIF format



Tone Decoder can detect and decode the following different types of phone tones –



-- DTMF, MF

-- Caller ID, Caller ID – Call Waiting

-- Paging Tones

-- Teletype (TTY)

-- Frequency-Shift Keying (FSK)

-- Specific Area Message encoding (SAME)

-- Visual Message Waiting Indication (VMWI)

-- Special Information Tone (SIT)

-- Silence, ring-back, busy tones or any Custom Tones from the PCM wave file / wave streams



About GL Communications Inc.,

Founded in 1986, GL Communications Inc. is a leading supplier of test, monitoring, and analysis equipment for TDM, Wireless, IP, and VoIP networks. Unlike conventional test equipment, GL's test platforms provide visualization, capture, storage, and convenient features like portability, remote operation, and scripting.



Our test solutions cover wide array of networks – 4G (LTE), 3G, 2G, IP, Ethernet, T1, T3, E1, E3, OC-3/STM-1, OC-12/STM-4, and analog.  GL's tools are widely used by the telecommunication industry for: conformance testing, automated stress/load testing, and performance assessment, and analysis.  For more information about GL's complete line of products,



Contact:

Shelley Sharma

Phone: 301-670-4784

E-mail: info@gl.com

More from Machinery & Machining Tools