VMP's Low Profile Switch & Server Depth Vertical Wall Cabinets Now Available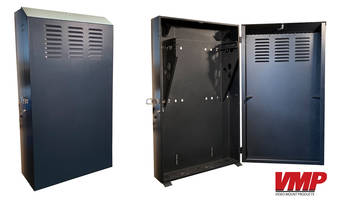 After a Tremendously Successful Launch, the ERVWC Series is Now Stocked Once Again; the 5U Configuration, Rugged Enclosures are Designed to Securely Mount EIA Standard Rack Mount Equipment and are Made of Pre-Assembled Heavy-Duty Steel
STEVENSVILLE, Md., Sept. 21, 2020 — After a tremendous launch in March that sold out most initial inventory, followed quickly by the pandemic, Video Mount Products (videomount.com), a leading provider of mounting solutions for the security, commercial, CI, residential, and pro audio/video markets, is proud to announce its two new low profile ERVWC Series vertical wall cabinets are now back in stock and ready to ship once again.
The "Switch Depth" (p/n ERVWC-5U20) has an MSRP of $499.00, and the "Server Depth" (p/n ERVWC-5U36) has an MSRP of $699.00.
"It's been an interesting year, that's for sure," said Keith Fulmer, president of Video Mount Products. "We worked quickly through our initial production rollout after the product launch due to its immense popularity, and then we experienced the same supply chain disruptions as pretty much everyone else.  We are happy to report that the ERVWC Series vertical wall cabinets are back to our preferred stocking levels and we look forward to a successful 're-launch' of this great space and time saving solution."
Available in a 5U configuration in both switch depth and server depth, VMP's new low profile enclosures are designed to securely mount EIA standard rack mount equipment and are made of pre-assembled heavy-duty steel. These ready-to-mount enclosures feature locks on the front door and mounting rails are reversible and feature threaded screw hole options for both 12-24 and 6mm mounting preferences, making them ideal to position anywhere floor space is limited. The ERVWC-5U20 (28.8in. H x 25.6in. W x 9.75in. D) and ERVWC-5U36 (42.75in. H x 25.6in. W x 9.75in. D) both have sturdy 150 lb. weight capacities.
"These two enclosures have been designed to securely mount EIA standard rack equipment in an out of the way place such as a back office, closet, retail location, or anywhere that has limited floor space and needs a clean and organized way to secure equipment in a location that is accessible by many," Fulmer explained. "The ERVWC-5U20 and ERVWC-5U36 have a low profile due to their vertical mounting configuration and feature cable management punch outs, ventilation, and a dedicated location for mounting of a patch panel in addition to the available rack units.
VMP recently celebrated its 25th year as a leading provider of mounting solutions for the A/V, communication, and security industries.
For more information, please visit www.videomount.com or call toll free 877-281-2169. If you need help choosing the right mount for your application, try the VideoMount™-Finder at www.chooseamount.com.
About Video Mount Products
Video Mount Products (VMP) is a leading provider of mounting solutions for the A/V, communication and security industries since 1994. VMP products consistently offer the latest designs in safety and flexibility, all at an outstanding value. VMP's product offering continues to grow by adding mounting systems to address growing segments across many markets.
VMP has become the mounting systems company of choice for professionals and their customers everywhere. All products have been engineered for and installed with confidence in thousands of residences, businesses, hotels, restaurants, schools, hospitals, houses of worship and security applications throughout the world. VMP prides itself on providing the best products in the industry and by supporting those products with knowledgeable professionals who understand that "support" is the core of our business.
Media Contact:
Charlie Leib
CRL Public Relations
T: 480-380-0673
[email protected]