VMP Gains U.S. Patent for ER-8RSA Adjustable Eight Receiver Rack Shelf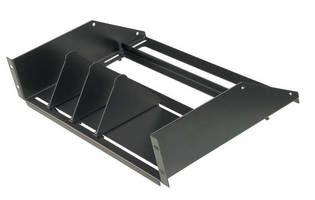 With a Load Capacity up to 50 lbs., the ER-8RSA Accommodates up to Eight Receivers, can be Adjusted Left to Right and Front to Back, and Includes Front and Top Anti-roll Bars and Additional Receiver Separators

STEVENSVILLE, Md. - Video Mount Products (videomount.com), a leading provider of mounting solutions for the residential, CI, commercial, security, and pro audio/video markets, is proud to announce it has gained U.S. patent # 7,850,022 for its new ER-8RSA eight receiver adjustable rack shelf.

"The fact that we now have a patent for the design and functionality of our popular ER-8RSA adjustable rack shelf further demonstrates our commitment to provide our customers, and the industry at large, innovative products that no one else can," explained Keith Fulmer, president of Video Mount Products. "The ER-8RSA is an economical and space saving solution that works perfectly in multi-receiver installs."

The ER-8RSA can accommodate up to eight receivers and can be adjusted left to right and front to back to handle a wide variety of receiver brands and styles. It also comes with additional components, including front and top anti-roll bars and additional receiver separators. The rugged ER-8RSA has a load capacity of 50 lbs., includes 10-32 and 12-24 mounting screws, and comes available in a black powder coat finish.

"Backed by VMP's years of industry acclaimed product design and customer service, the ER-8RSA is also backed by VMP's Forever Warranty," added Fulmer.

For more information on the ER-8RSA, please visit www.videomount.com or call (410) 643-6390 or toll free 877-281-2169. If you need help choosing the right mount for your application, try the Video Mount Finder at www.chooseamount.com.

About Video Mount Products

Born in 1994, Video Mount Products (VMP) is a leading provider of mounting solutions for the video, audio and security industries. VMP products consistently offer the latest designs in safety and flexibility, all at an outstanding value. VMP's product offering continues to substantially grow by adding several mounting systems to address the increasing popularity of flat panel technology, both LCD and Plasma, as well as other growing segments across many markets.

VMP has become the mounting systems company of choice for professionals and their customers everywhere. All products have been engineered for and installed with confidence in thousands of residences, businesses, hotels, restaurants, schools, hospitals, houses of worship and security applications throughout the world. VMP prides itself on providing the best products in the industry and by supporting those products with knowledgeable professionals who understand that "support" is the core of the business.

More from Cleaning Products & Equipment