Material Handling and Storage Racks
VMP Features New ER-S1U4P Rack Shelf at InfoComm 2012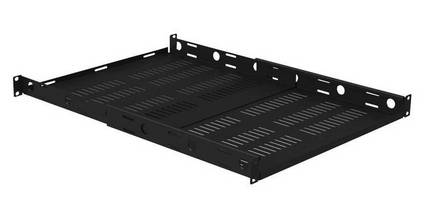 Now Shipping, the ER-S1U4P is a One Space Adjustable, Four-Post Vented Rack
Shelf Fitting Components up to 16.85-Inches Wide with a Load Capacity of up to 200 lbs.

STEVENSVILLE, Md. - Video Mount Products (videomount.com), a leading provider of mounting solutions for the commercial, residential, security, and pro audio/video markets, is proud to announce that it will feature its new ER-S1U4P Vented One Space Adjustable Four Post Rack Shelf at InfoComm 2012, held in Las Vegas, Nev. from June 13-15 at the Las Vegas Convention Center, booth N2540. Now shipping, the ER-S1U4P has an MSRP of $129.95.

"We designed the new ER-S1U4P for both form and functionality, especially for the installer who also seeks a rugged rack shelf solution," explained Keith Fulmer, president of VMP. "The unique four post design and 200 lb. load capacity make it the ideal choice for installing today's larger and heavier racked-mounted equipment."

Additional features of the ER-S1U4P include:

o Fits components up to 16.85 in. wide (17.4 in. when shelf is inverted)

o One space rack height (1.75 in.)

o Adjustable tray depth - 14.7 5in. to 25 in.

o Includes 10-32 and 12-24 rack screws

o Black static resistant powder coat finish

For more information on the ER-S1U4P, please visit www.videomount.com or call (410) 643-6390 or toll free 877-281-2169. If you need help choosing the right mount for your application, try the Video Mount(TM) Finder at www.chooseamount.com.

About Video Mount Products

Born in 1994, Video Mount Products (VMP) is a leading provider of mounting solutions for the video, audio and security industries. VMP products consistently offer the latest designs in safety and flexibility, all at an outstanding value. VMP's product offering continues to substantially grow by adding several mounting systems for to address the increasing popularity of flat panel technology, both LCD and Plasma, as well as other growing segments across many markets.

VMP has become the mounting systems company of choice for professionals and their customers everywhere. All products have been engineered for and installed with confidence in thousands of residences, businesses, hotels, restaurants, schools, hospitals, houses of worship and security applications throughout the world and come with the industry's only Forever Warranty. VMP prides itself on providing the best products in the industry and by supporting those products with knowledgeable professionals who understand that "support" is the core of the business.