VMP Features Multi-Purpose "No Profile" Flat Panel In-Wall Box Adapter at 2016 ISC West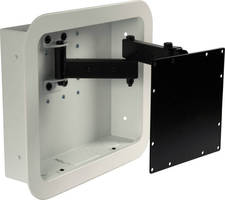 Collapsing Flush to the Wall, the IWB-1 is an In-Wall A/V Box That Also Works in Conjunction with the VMP LCD-1 or VMP LCD-2537 Wall Mounts to Recess Mount 15- to 32-Inch Flat Panels Between Two 16-Inch Wall Studs



STEVENSVILLE, Md. – Video Mount Products (videomount.com), a leading provider of mounting solutions for the security, commercial, residential, and pro audio/video markets, is proud to announce it will feature its popular multi-purpose IWB-1 "no profile" flat panel in-wall box adapter during ISC West 2016, held in Las Vegas, Nev. from April 6-8 at the Sands Expo and Convention Center, booth #1038. Now shipping, the IWB-1 has an MSRP of $108.95.



"As flat panels themselves become increasingly slimmer, customers are looking for even more ways to get these mounted TVs and monitors as flush with the wall as possible," explained Keith Fulmer, president of Video Mount Products. "That's where the new VMP IWB-1 comes in. Collapsing flush with the wall, this in-wall adapter is set within the wall between two 16-inch studs, allowing the flat panel to be recess mounted and, thus, actually mounted within the wall itself for increased aesthetic appeal."



The VMP IWB-1 flat panel In-Wall Box Adapter can be used as a stand-alone in wall box, or it can work in conjunction with the VMP LCD-1 Multi-Configurable Universal LCD Monitor Wall Mount or the VMP LCD-2537 Multi-Configurable Universal Mid-Size LCD Monitor Wall Mount (both sold separately).



Additional features of the VMP IWB-1 flat panel In-Wall Box Adapter include:



• Holds most 15-inch – 32-inch monitors

• Includes paintable decorative plastic trim ring

• Includes cable and electrical knockouts

• Flat panel collapses flush with front face

• Load capacity - 75 lbs.

• Includes silver adaptors for the LCD mounts (IWB-1B includes black adaptors)



"The IWB-1 is yet another option for discerning installers and customers who demand both aesthetic appeal as well as the famed VMP reliability," concluded Fulmer. "Whether in the home, office, or any other application where a low-profile wall mounted flat panel option is desired, the VMP IWB-1 is the answer."



For more information, please visit www.videomount.com or call toll free 877-281-2169. If you need help choosing the right mount for your application, try the VideoMount™-Finder at www.chooseamount.com.



About Video Mount Products

Video Mount Products (VMP) is a leading provider of mounting solutions for the A/V, communication and security industries since 1994. VMP products consistently offer the latest designs in safety and flexibility, all at an outstanding value. VMP's product offering continues to grow by adding mounting systems to address growing segments across many markets.



VMP has become the mounting systems company of choice for professionals and their customers everywhere. All products have been engineered for and installed with confidence in thousands of residences, businesses, hotels, restaurants, schools, hospitals, houses of worship and security applications throughout the world. VMP prides itself on providing the best products in the industry and by supporting those products with knowledgeable professionals who understand that "support" is the core of our business.

More from Safety & Security Equipment