VME/VXS Board suits high-performance DSP and DAQ systems.
Press Release Summary: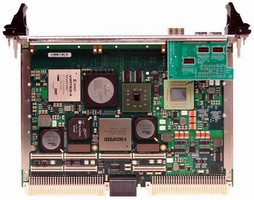 Along with VITA-41 VXS interface with dual 1.25 GB/sec 4X ports, Model 4207 employs Freescale MPC8641D Dual Core PowerPC AltiVec(TM) Processor and Xilinx Virtex-4 FX Series FPGA. Fabric-transparent crossbar switch bridges gigabit serial resources, including 2 PMC/XMC module hosted sites, 2 VXS ports, 2 FC ports, and 2 optical serial transceivers. Native protocols support PCI Express, Serial RapidIO, FC, and Aurora. Single-slot solution also offers 2 gigabit Ethernet interfaces.
---
Original Press Release:

Pentek Announces Industry's First VME/VXS Board with Unique Combination of PowerPC, FPGA and Multiple High-Speed Gigabit Serial Interfaces



o Freescale's latest PowerPC processor, now with the AltiVec(TM) engine
o Fabric-transparent gigabit serial crossbar switch
o Support for PCI Express, Serial RapidIO, Fibre Channel, Xilinx Aurora and more
o Xilinx Virtex FPGA for custom programming and gigabit serial I/O
o Dual Optical Fibre Channel interface for 800 MB/sec recording/playback
o Two PMC/XMC-module hosted sites for flexible I/O
o VITA-41 VXS interface with dual 1.25 GB/sec 4X ports
o Dual gigabit Ethernet interfaces
o Availability of ruggedized versions

UPPER SADDLE RIVER, NJ-January 28, 2008-Pentek, Inc., one of the pioneers of VME board-level technology, today released its Model 4207, the company's flagship product for high-performance digital signal processing and data-acquisition systems. Building upon the success and wide market acceptance of Pentek's previous processor board designs, this new board employs Freescale's MPC8641D Dual Core PowerPC AltiVec(TM) Processor and a Xilinx Virtex-4 FX Series FPGA.

In addition, Pentek's unique fabric-transparent crossbar switch bridges a wealth of gigabit serial resources, including the PowerPC and FPGA, two XMCs, dual VXS ports, dual Fibre Channel ports and two optical serial transceivers. Native protocols support PCI Express, Serial RapidIO, Fibre Channel and Aurora, all accommodated by the crossbar switch. Up to 4 GB of fast DDR2 SDRAM simplifies data buffering and boosts real-time signal processing.

The Model 4207 thereby brings to designers extraordinary power, speed and connectivity in a single-slot solution, making it well suited for wideband, data acquisition-and-recording, real-time digital signal-processing and software-radio applications.

"What's so remarkable about the Model 4207 is that it combines so many standard interfaces and protocols - VXS, PMC, XMC, PCI-X, PCI Express, gigabit Ethernet, RocketIO, Serial RapidIO, Fibre Channel, Xilinx Aurora and VME64x technologies - all in one extremely flexible, single-slot solution," says Rodger Hosking, vice president, Pentek. He adds, "The crossbar switch, the two PMC/XMC sites and the user-programmable
FPGA offer customers the connectivity and flexibility they need to handle a tremendous range of tough applications. What's more, the on-board Fibre Channel interface makes the 4207 ideal for high-speed real-time recording at rates up to 800 MB/sec."

Powerful Processing
The Model 4207 is equipped with either a single-core MPC8641 or a dual-core MPC8641D executing at a maximum frequency of 1.5 GHz. The very latest AltiVec Freescale PowerPC processors, they perform 128-bit parallel processing of multiple data elements (Single-Instruction, Multiple-Data Stream) and deliver DSP floating-point processing rates of up to 12,000 GFLOPS.

The processor includes built-in gigabit fabric support with both 8x PCI Express and 4x Serial RapidIO serial data ports. Up to 2 GB DDR2 SDRAM is available to the processor for program and data memory, along with a nonvolatile 128 MB flash for initialization, self-test and boot code. Processor clock options are from 1.0 to1.5 GHz.

User-Programmable FPGA
The Model 4207 includes options for an on-board Xilinx Virtex-4 FX Series FPGA, the XC4VFX60 or XC4VFX100. Two 4X RocketIO ports provide a high-speed serial path between the FPGA and the crossbar switch for connection to other parts of the board, including the processor, VXS interface and XMC sites. These ports can also be configured as four 2X paths. The FPGA can be optionally equipped with 1 or 2 GB of DDR2 SDRAM along with 128 MB flash.

Developers can take advantage of unused FPGA resources to implement custom signal-processing algorithms and to process captured data in real time. To simplify FPGA development tasks, Pentek offers its GateFlow FPGA Resources.

Pentek's GateFlow FPGA Design Kit enables the onboard FPGA to be configured by the user for implementation of custom pre-processing functions such as FFTs, FIR filters and software-radio blocks. The kit includes VHDL source files and works in conjunction with the Xilinx ISE Foundation design tools.

Unique Fabric-Transparent Crossbar Switch Architecture
In addition to the processing power described, the fabric-transparent crossbar switch of the Model 4207 offers extraordinary high-speed connectivity. Since the processor configures all routing paths, the switch simply passes the gigabit serial traffic from one port to another, totally independent of any particular protocol. Multiple data streams can be sent through the switch simultaneously, even if they have different protocols.

Because all high-speed interfaces on the board connect through the switch, paths can be configured to meet specific requirements. For example, XMC modules can transfer data through the switch to the on-board FPGA, to the processor, to the other XMC or to another board over the VXS connector. Similar types of connections are available for other resources, using any protocol that the connected devices support, including Serial RapidIO, PCIExpress, Xilinx Aurora and InfiniBand protocols.

Highly Scalable Solution
"The Model 4207 has all the resources customers need for extremely high-performance systems. With virtually every major high-speed interconnection capability, the Model 4207 is well suited for high-speed real-time recording, wideband data acquisition, real-time digital signal processing and software radio. However, by depopulating features, lower-cost versions of the board can also handle relatively simple systems, like a single-board computer with a PowerPC and single PMC module," says Hosking. "By standardizing on the Model 4207, systems integrators will find that this one board scales very nicely to a wide range of applications."

Compatible Hardware Products and Development Tools for a Variety of Platforms
The 4207 is compatible with any COTS PMC or XMC module. Pentek's offerings include a variety of A/Ds, transceivers, digital receivers, and processing PMC and XMC modules.
Pentek VxWorks and Linux Board Support Packages (BSPs) provide software developers with a complete library of hardware-initialization, control and application functions to be used in a real-time VxWorks or Linux operating environment.

Pricing and Availability
For pricing and availability, please contact Mario Schiavone at 201-818-5900.

About Pentek
Pentek develops, manufactures and markets innovative DSP systems to original equipment manufacturers, distributors and value-added resellers. Pentek offers powerful VME, VXS, PMC, XMC, cPCI and PCI boards for data acquisition, software radio and digital signal processing featuring Texas Instruments C6000 DSPs, Freescale G4 PowerPCs and Xilinx FPGAs. Pentek's I/O includes A/Ds, D/As, FPGAs, digital up/downconverters and more. Pentek equips all products with high-performance I/O including Gigabit serial interfaces and offers strong DSP software support.

Pentek, GateFlow, SystemFlow and RTS are trademarks or registered trademarks of Pentek, Inc. Brand or product names are registered trademarks or trademarks of their respective holders.

For the release, photograph and data sheet, please visit: www.pentek.com/whatsnew/ViewRelease.cfm?Index=104

North American Sales Contact: Mario Schiavone, Pentek, Inc., One Park Way, Upper Saddle River, NJ 07458-2311; Telephone 201-818-5900, ext. 770; Fax 201-818-5904; Email news@pentek.com. Website www.pentek.com.

International Sales Contacts: Elexo in France 0141 22 1023, VSystems Electronic GmbH in Germany at 892737630, VSystems s.r.l. in Italy at 119661319, VSystems AB in Sweden at 84441557, VSystems UK at 1494476000, Sela Electronic Systems in Israel at 36479969, MISH International in Japan at 425387650, Beijing BetaOne Sysjob Ltd. in China at 1082784106 and Acetronix Co. Ltd. in Korea at 24202343, ext. 106. Please visit www.pentek.com/contact/replist.pdf for a full list of international Pentek representatives and distributors.

More from Material Handling & Storage