VME Single Board Computer is offered in 4 ruggedization levels.
Press Release Summary: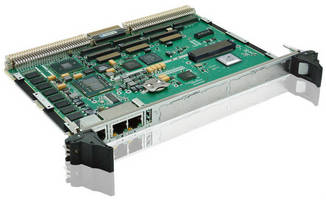 Featuring Intel® Core(TM) i7 CPU and Intel QM 57 controller hub, 6U VM6050 combines x86 computing and graphics performance with flexible and modular expansion. Hyperthreading and Intel® Turbo Boost accelerate multi-processing and single-threaded tasks, while graphics applications benefit from Open GL 2.1 support and DirectX 10 capabilities. Along with many I/O and connectivity options, SBC offers up to 8 GB soldered ECC memory, on-board USB flash, and 2 mezzanine sockets for expansion.
---
Original Press Release:

Kontron Introduces Intel® Core(TM) i7 6U VME Single-Board Computer with Extended Service Lifecycle and Four Ruggedization Levels



Brings increased performance and reduced development time to new and existing VME system designs

Eching, Germany / Paris Le Bourget, France - Today at the Paris Air Show, Kontron announced the 6U VME single-board computer (SBC) VM6050 with an Intel® Core(TM) i7 processor. It combines extremely high x86 computing and graphics performance with flexible and modular expansion possibilities in four different ruggedization levels. OEMs can tailor the Kontron VM6050 to the individual requirements of new and existing applications and benefit from a reduced time-to-market. In addition, with Kontron's long-term supply program with availability of 10 years or more, OEMs can further optimize the life cycle and total cost of ownership (TCO) for applications.

With hyperthreading and Intel® Turbo Boost, the Kontron 6U VME SBC VM6050 speeds up multi-processing tasks and processes single-threaded tasks more efficiently by increasing the processor cycle on demand by up to 40%, without exceeding the defined TDP. OEMs can increase the performance of existing single-threaded applications without having to extensively adapt the software. Demanding graphics applications, such as those found in control centers, benefit from Open GL 2.1 support and accelerated DirectX 10 capabilities through better and faster visual display on up to two monitors. These features make the Kontron 6U VME SBC VM6050 an ideal fit for a broad range of applications in markets such as the aerospace industry, military technology, traffic and safety technology as well as video and image processing in medical technology.

Closing the silicon architecture migration gap
The Kontron 6U VME SBC VM6050 is fully compatible with all Kontron 6U VME products. OEMs can easily leverage the exceptional computing and graphics performance of the Kontron VM6050 in their existing designs based on the current line of both Intel® and PowerPC based Kontron 6U VME SBCs without adjustments to the backplane. Designing systems around Kontron 6U VME boards allows the final product to span across different CPU architectures, which helps reduced development times as well as improve time-to-market and TCO of new applications.

The feature set of the Kontron 6U VME SBC VM6050
The Kontron 6U VME SBC VM6050 with Intel® Core(TM) i7 processor and Intel® QM 57 controller hub offers up to 8 GByte of soldered ECC memory. It can be expanded via two mezzanine sockets for up to two XMC/PMC or one FMC (VITA 57 FPGA I/O) cards. In the left mezzanine slot, 2x DisplayPort, VGA, USB, high-definition audio and additional GPIOs can be implemented via corresponding modules. This modular concept allows the Kontron VM6050 to be configured to the most varied applications. This modular COTS approach further minimizes implementation efforts and thus the time-to-market.

The Kontron 6U VME SBC VM6050 offers on-board USB flash support for extremely secure and reliable performance and a system design without vulnerable storage media. In addition, the 128 KB NOVRAM guarantees the highest data security and provides a back-up of critical data in case of a power outage. Dedicated interfaces at the front include 2x Gigabit Ethernet and 1x USB 2.0 at dedicated interfaces and 1x serial port (SR-232/422/485). There are 2x Gigabit Ethernet, 2x SATA II, 2x USB 2.0, PCI Express x4, SRIO, GPIO and 32 I/Os for PMC 1 implemented on the backplane via the PO plug (VITA 31.1). In addition, Kontron's latest VME board also supports the double-edged source synchronous transfer (2eSST) which allows a data throughput of up to 320 Mbytes via P1, along with the 64-bit VME bus (VME64x). P2 routes 64 I/Os from the FMC and PMC 2 slot and 32 I/Os from the PMC 1 slot to the backplane.

Kontron EZ1-VM6050 evaluation system
With the EZ1-VM6050 system, Kontron provides a solution for quick entry into evaluation and development of VME applications. In the compact (1U) air-cooled 6U VME rack system, developers get the Kontron 6U VME SBC VM6050 pre-integrated along with the associated rear transition module (RTM), so that they can immediately begin with application development.

The new Kontron 6U VME SBC VM6050 supports VxWorks, Fedora Linux and Windows and is available starting immediately.

For further information on the Kontron VM6050 6U VME SBC: http://www.kontron.com/products/boards+and+mezzanines/6u+vme/processor/6u+x86/vm6050.html

Further information on Kontron VME processor boards: http://www.kontron.com/products/boards+and+mezzanines/6u+vme/processor/

Further information on VME: http://www.kontron.com/vme/

About Kontron
Kontron is a global leader in embedded computing technology. With more than 30% of its employees in Research and Development, Kontron creates many of the standards that drive the world's embedded computing platforms. Kontron's product longevity, local engineering and support, and value-added services, helps create a sustainable and viable embedded solution for OEMs and system integrators. Kontron works closely with its customers on their embedded application-ready platforms and custom solutions, enabling them to focus on their core competencies. The result is an accelerated time-to-market, reduced total-cost-of-ownership and an improved overall application with leading-edge, highly-reliable embedded technology.

Kontron is listed on the German TecDAX stock exchange under the symbol "KBC". For more information, please visit: http://www.kontron.com/

All rights reserved.

Kontron is a trademark or registered trademark of Kontron AG.

DIMM-PC®, PISA®, ETX®, ETXexpress®, microETXexpress®, X-board®, DIMM-IO® and DIMM-BUS® are trademarks or registered trademarks of Kontron Embedded Modules GmbH.

Intel® and Intel® Core(TM) are trademarks of Intel® Corporation in the US and other countries.

All other brand or product names are trademarks or registered trademarks or copyrights by their respective owners and are recognized.

All data is for information purposes only and not guaranteed for legal purposes. Subject to change without notice. Information in this press release has been carefully checked and is believed to be accurate; however, no responsibility is assumed for inaccuracies.

More from Explosives, Armaments, and Weaponry