VME Carrier Board allows VME users to run PMC cards.
Press Release Summary: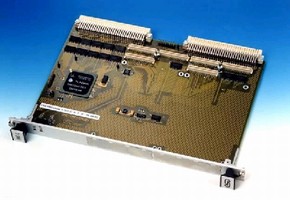 Using UNIVERSE CA912042 VME-PCI bridge for VMEbus connection, PMC-CADDY can operate as slave or master on VMEbus, and can carry up to 2 PMC modules of normal size or 1 double-sized module. Board operates with data width of up to 32 bits, with 32 address signals on VMEbus. VMEbus interrupt can be applied to any of 7 interrupt-request lines. Every plug-in unit of PMC-CADDY has I/O connector, which applies I/O signals of PMC modules to VMEbus connector P2.
---
Original Press Release:

VME Carrier Board Allows VME Users to Run PMC Cards



July 10, 2006 - esd electronics, Inc. announces the availability of a VME Carrier Board for PMC modules, which allows two PMC modules to piggyback on one board. This gives VME users enhanced flexibility in designing with both PMC and VME technology. This unique board is available off-the-shelf at prices competitive with less flexible products.

The VME-bus PMC-CADDY is a VME64-based board which can carry up to two PMC modules of normal size or one double-sized module. Tundra's VME-PCI bridge UNIVERSE CA912042 is used for the VMEbus connection, allowing the board to operate either as slave or master on the VMEbus. If the board operates as master, it supports a 4-level arbiter. The PMC-CADDY operates with a data width of up to 32 bits, with 32 address signals on the VMEbus. The VMEbus interrupt can be applied to any of the 7 interrupt-request lines. The board is connected to the VMEbus by two 160-pin VG-connectors on VME64 extensions.

esd has designed both PMC plug-in units according to the draft norm IEEE P1386/Draft 2.0 (except for the standard I/O pin routing), so all PMC modules currently on the market can be inserted. Every plug-in unit of the PMC-CADDY also has an I/O connector which applies the I/O signals of the PMC modules to VMEbus connector P2. Two different P2 pin assignments are available.

On request (at no additional charge) are sample libraries for initialization of the board in C-Source-Code for VxWorks, OS9-68K, OS9-PCC, LynxOS and RTOS-UH on a disk in MS-DOS format. Drivers for other operating systems can also be requested.

esd electronics also specializes in re-engineering VME parts. For more information about esd's capabilities or the VME-PMC CADDY, please contact esd electronics, Inc., 525 Bernardston Road, Suite 1, Greenfield, MA 01301, phone 413-772-3170, fax 413-772-3171, e-mail us-sales@esd-electronics.com, or go directly our website at www.esd-electronics.us.

For more information, contact:
Mr. Wilfred Voss
esd electronics, Inc.
413-772-3170

More from Materials