VMC utilizes 40 taper, 13,000 rpm spindle.
Press Release Summary: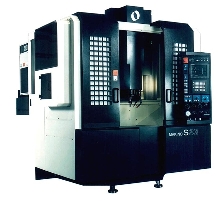 The S33 Vertical Machining Center features heavy cast construction and is capable of maintaining positioning accuracies to within ±.0001 in. and repeatability of ±.00008 in. Machine includes 20-tool magazine and automatic tool changer providing tool-to-tool exchange of 1.3 sec. Table-working surface is 32 x 18 in. with axes travels of 26 x 20 x 18 in. Geometric Intelligence servo control is tailored for high speed/high volume part machining.
---
Original Press Release:

Makino Offers Value-Oriented Production Ready VMC


S33 High-Performance Decreases Production Shop Manufacturing Costs

MASON, OH-August, 2002-When it comes to production oriented vertical machining centers, machine productivity can dramatically impact the cycle time of the part and significantly change the economics of part production. Makino's S33 VMC blends high-performance machining capabilities and production oriented characteristics with an attractive array of standard features in a pricing package that meets the vigorous cycle time and value demands of the production environment.

The Makino S33 VMC is a production oriented machine with outstanding machine rigidity, proven high speed machining capability, outstanding accuracy, superior performance characteristics, speed, flexibility, value, and the productivity features to tackle virtually any part production application.

Dedicated to helping manufacturers be more productive and driving down the cost of their operations, the Makino S33 will be unveiled at the International Manufacturing Technology
Show (IMTS) in September at Makino's Booth #8400 in Hall A. Makino also is showcasing a wide range of production-oriented solutions for a variety of part production applications.

S33 Features
The Makino S33 incorporates features that are both attractive and high output oriented for the parts machining arena. The S33 utilizes a 40 taper, 13,000-rpm spindle with the stiffness,
rigidity, and torque required for production applications-yet, the speed and agility required to drive cycle time out of machined parts. Heavy cast construction and an axis configuration with no overhangs insures high machine rigidity resulting in outstanding accuracy over the full range of travel. The S33 is capable of maintaining positioning accuracies to within +/- .0001 inch (.003 mm) and repeatability of +/- .00008 inch (.002 mm).

To reduce setups and maximize machine utilization, the S33 is equipped with a 20-tool magazine and automatic tool changer providing a quick tool-to-tool exchange (1.3 seconds). Linear motion guides on X-, Y- and Z-axes provide the rigidity required for those difficult applications and quick rapid traverse and cutting feed rates of 1,575 ipm (40,000 mm/min). The table-working surface is 32 x 18 inches (800 x 450 mm) with axes travels of 26 x 20 x 18 inches (650 x 500 x 450 mm).

The machine's footprint is a compact 90 inches wide x 106 inches deep (2,294 x 2,690 mm) and is designed for easy maintenance access around the entire perimeter. High-volume chip evacuation is facilitated by a wide center trough design that features rear discharge.

Other features include an ergonomic swing operator control panel, fully enclosed chip and splash shield with worklight, comfortable work table height, easy access to the work zone, flood coolant, and an air filtration unit.

Additional Benefits
For even greater flexibility, the S33 can be configured with an integral pallet changer providing an extremely quick 7-second pallet change for a 24 x 16 inch (600 x 400 mm) pallet capable of
an 880 pound (400 kg) pallet load. A 30-tool magazine and through spindle coolant also make this pallet changer version of the machine a high performance parts producer.

The S33 includes Makino's proprietary, next generation Geometric Intelligence (GI) servo control providing special control enhancements tailored for high speed/high volume part machining. This feature helps provide the lowest cycle times achievable, by reducing machining cycle times, while enhancing machining accuracy and cutting speeds. Productivity and accuracy-both key elements for competing in the parts manufacturing market are part of the S33's formula for success.

Makino is a global provider of advanced machining technology and application support for the metalcutting and die/mold industries, dedicated to driving out more costs from your manufacturing operation than any other competitive machine tool manufacturer. Makino manufacturing and service centers are located in the United States, Japan, Germnany, Singapore,
Italy, France, Korea, Taiwan, China, Mexico, Brazil, and India, and are supported by a worldwide distributor network. For more information call 1.800.552.3288, or visit Makino on the Web at www.makino.com.

More from Mechanical Power Transmission