Vision Towers provide unobstructed site lines.
Press Release Summary: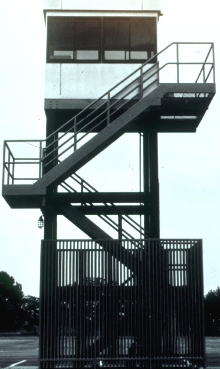 Vision Towers provide raised platforms, 4 to 15 ft above grade level, and are available in 3 types. DURASTEEL(TM) has seamless, steel construction for smooth panel finishes. DURASTEEL-PC(TM), with steel-pan construction, allows replacement of damaged wall panels. DURALUMINUM(TM) has clear anodized aluminum components. Buildings are available with spotlights, security screens, HVAC units, satellite glazing, and roll-down shutters.
---
Original Press Release:
Porta-King Vision Towers Give Security A Bird's Eye View

St. Louis, Mo - February 20, 2002 - Porta-King Building Systems' vision towers provide unobstructed site lines in security areas by creating a raised platform 4 to 15 feet above grade level.

Vision towers are a perfect choice for providing security in any area or environment where the ground-level view is easily obstructed. Ideal applications include sporting and public events, commercial buildings and lots, and hospital, campus or arena parking areas and lots. Porta-King provides turn-key vision tower systems. The company can supply the entire mezzanine, stair and booth structure from design and construction to installation.

Three types of building construction are available. DURASTEEL(TM) features steel "seamless" construction, for smooth panel finishes. DURASTEEL-PC(TM) features steel "pan" construction, which allows easy replacement of damaged wall panels. DURALUMINUM(TM) features clear anodized aluminum components, which carry a 5-year warranty from surface deterioration (oxidation).

For additional security and comfort, vision tower buildings can include spotlights, bullet-resistant construction materials, security screens, roll-down shutters, HVAC units, and satellite glazing for unobstructed 360-degree viewing. Also, booths can comply with ADA guidelines and can carry the U.L. Classification (NEC), which may help expedite the permit process.

Porta-King has been a leader in pre-assembled buildings for indoor and outdoor applications since 1969.

More from Controls & Controllers