Vision System offers high-speed, simultaneous 2D/3D imaging.
Press Release Summary: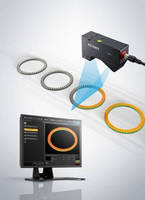 Combining Hi-Res 3D height images with high-speed (64,000 profiles/sec) processing, XG-X Series enables inspection that cannot be accomplished with conventional laser profiling or traditional 2D imaging. This all-in-one 3D measurement and inspection package, which leverages laser profiling technology and image processing algorithms, also offers facilitated setup and programming via UI and programmable encoder. Features also include real-time vibration correction.
---
Original Press Release:

World´s First Complete 3D Solution: XG-X Series Vision System



KEYENCE releases the first all-in-one 3D measurement and inspection package featuring the best laser profiling technology and image processing algorithms.  The brand new XG-X vision system makes 3D setup and programming easier than ever with a new user interface and programmable encoder.  The XG-X combines high-resolution 3D height images with ultra-high speed processing enabling inspection that cannot be done with conventional laser profiling or traditional 2D imaging.



3 Keys to 3D Success



BEST LASER PROFILING TECHNOLOGY

• 64,000 profiles per second

• High-resolution height profiling



MOST POWERFUL 3D IMAGE PROCESSING

• Real-time Vibration Correction

• Simultaneous 2D/3D imaging

• Easily synchronize dedicated encoder

• Up to 150,000 pulses per revolution

• Welding Seam Inspection:

Traditional 2D area cameras:

Difficult inspection due to the unstable

surface condition of workpieces.



NEW! KEYENCE XG-X 3D Solution: Stable inspection is possible without being influenced by the surface condition of workpieces.

Traditional 2D Image versus 3D XG-X Image



KEYENCE has steadily grown since 1974 to become an innovative leader in the development and manufacturing of automation equipment worldwide. Our products consist of automation sensors, static eliminators, barcode readers, measuring instruments, vision systems, laser markers, and digital microscopes.



Keyence Corporation of America

1100 North Arlington Heights Rd. Suite 210, Itasca, IL 60143

Phone: 1-888-KEYENCE (539-3623)

Fax: 1-201-930-0099



[email protected]