Vision System is optimized for inspection applications.
Press Release Summary: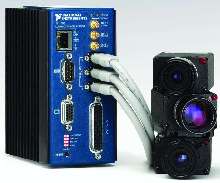 Compact NI CVS-1455 measures 4 x 5 x 2.5 in. Equipped with 128 MB nonvolatile onboard Flash memory, 29 digital I/O lines, and 3 IEEE 1394 (FireWire) ports, it performs at 1,436 MIPS and delivers more than 3x processing power of typical smart cameras. Using NI Vision Builder for Automated Inspection or NI LabVIEW graphical development environment, engineers can build applications with multiple cameras without separate processing units.
---
Original Press Release:

NI Releases New High-Performance Compact Vision System Optimized for Inspection


National Instruments CVS-1455 Delivers Three Times the Functionality of a Smart Camera

NEWS RELEASE -- Nov. 4, 2003 -- National Instruments today announced the NI CVS-1455 Compact Vision System, which delivers nearly twice the processing power and four times the storage of the NI CVS-1454 Compact Vision System released in July. With this optimized performance, engineers can use the new NI CVS-1455 to dramatically increase throughput of visual inspection applications.

"The NI CVS-1455 Compact Vision System high-performance processor, nonvolatile storage, and three IEEE 1394 (FireWire) ports make it well equipped to handle any inspection task, from precise assembly guidance to high-speed packaging inspection," said Tim Dehne, NI senior vice president of R&D. "In the past, engineers struggled to coordinate information and images from several independent machine vision nodes. Now they can integrate inspections into one embedded system without sacrificing performance. In fact, the NI CVS-1455 delivers the performance and functionality of multiple smart cameras."

Performing at 1,436 million instructions per second (MIPS), the NI CVS-1455 delivers more than three times the processing power of a typical smart camera. This speeds visual inspection while giving engineers the power to build applications with multiple cameras without the need for separate processing units, saving both time and money. Engineers can choose from more than 50 IEEE 1394-compliant cameras. The system also includes 128 MB of nonvolatile onboard Flash memory -- eight times the storage of a typical smart camera -- so engineers can store more images for offline quality control analysis. In addition, the NI CVS-1455 features 29 digital I/O lines for control and communication with PLCs, relays, Compact FieldPoint and other automation devices.

NI CVS-1455 NI CVS-1454 Typical Smart Camera

Configurable Software Vision Builder for Automated Inspection Vision Builder for Automated Inspection Available

Programmable Software LabVIEW Real-Time LabVIEW Real-Time Not available

Typical Processor Performance 1436 MIPS* 883 MIPS* 60-360 MIPS*

Digital I/O 29 DIO 29 DIO 2-20 DIO

Cameras up to 3 up to 3 1

Resolution up to 2,000 x 2,000 up to 2,000 x 2,000 640x480

Frame Rate up to 100 fps up to 100 fps 30 fps

Nonvolatile Storage 128 MB 32MB 4-16 MB

Base Price $3,995 $2,995 $3,295

*MIPS: million instructions per second

NI designed the rugged, 4 by 5 by 2.5 in. NI CVS-1455 to perform flawlessly whether aligning wafers in a clean room or inspecting spot welds on a factory floor. It can withstand temperatures ranging from 0 to 55 °C and does not include fans, external vents or moving parts of any kind, enabling it to easily integrate into harsh, industrial environments. The system's high performance, flexibility and ruggedness make it ideal for inspection, alignment, gauging and identification applications.

Engineers can develop their machine vision applications on the NI CVS-1455 using either NI Vision Builder for Automated Inspection or the NI LabVIEW graphical development environment. Vision Builder offers an intuitive point-and-click interface for rapid application development. For more sophisticated, highly customized vision applications, LabVIEW delivers an open, full-featured development environment. The LabVIEW code generation feature in Vision Builder for Automated Inspection gives developers the power to easily migrate to LabVIEW.

About National Instruments

National Instruments (www.ni.com) is a technology pioneer and leader in virtual instrumentation -- a revolutionary concept that has changed the way engineers and scientists approach measurement and automation. Leveraging the PC and its related technologies, virtual instrumentation increases productivity and lowers costs for customers worldwide through easy-to-integrate software, such as the NI LabVIEW graphical development environment, and modular hardware, such as PXI modules for data acquisition, instrument control and machine vision. Headquartered in Austin, Texas, NI has more than 3,000 employees and direct operations in 40 countries. In 2002, the company sold products to more than 25,000 different companies in more than 80 countries around the world. For the past four consecutive years, FORTUNE magazine has named NI one of the 100 best companies to work for in America.

Pricing and Contact Information NI CVS-1455 Compact Vision System 11500 N Mopac Expwy, Austin, Texas 78759-3504

Web: www.ni.com/vision Tel: (800) 258-7022, Fax: (512) 683-9300

E-mail: info@ni.com

More from Packaging Products & Equipment