Vision and Imaging Sensors / Detectors
Vision Sensor helps eliminate print-job errors.
Press Release Summary: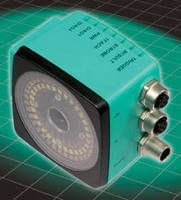 Used for print job verification, BIS510 monitors correct sheet sequence in collating, folding, and binding machines. Each job, after being taught-in, can run continuously and without error, while verification process is performed automatically for each print job. Sensor includes camera, illumination LEDs, evaluation unit with DIO signals, and network interface. Along with error image memory, product provides up to 10 pages/sec image and barcode recognition with 4 m/sec max sheet speed.
---
Original Press Release:

Eliminate Print-Job Errors, Simply and Cost-Effectively



New BIS510 Vision Sensor from Pepperl+Fuchs enables OEMs to build high performance printing machines, without the need for expensive vision systems

TWINSBURG, OH - Pepperl+Fuchs introduces the BIS510 Vision Sensor. BIS510 vision sensors are specifically designed as a reliable, simpler and lower-cost alternative to expensive vision systems for print job verification applications. They provide fast and simple monitoring of the correct sheet sequence in collating, folding and binding machines. Once taught-in, each job can run continuously without concern for error, and the verification process is automatically performed for every print job that is produced.

"In the print and paper industry, and specifically on folding, collating, and binding machines, there is a vital need to verify the proper order and orientation of sheets because, if an error is found after the post-print process, then all of the material goes into the recycling bin," says Tim Cicerchi, Product Manager, Pepperl+Fuchs. "The principle behind the BIS510 is to catch the wrong sheet before it is bound and glued, stitched, or stapled together."

The sensor includes a camera, illumination LEDs and an evaluation unit with digital input and output signals, as well as a network interface. It features integrated error image memory, and provides image and barcode recognition at up to 10 pages/s, with a maximum sheet speed of 4 m/s.

"The BIS510 compares each sheet with the previously taught pattern image to determine whether or not it is the correct sheet. The camera can distinguish between different languages, font styles, and picture types. And if there is a problem on the machine, it can be stopped and the problem quickly corrected before the error becomes a costly one," says Cicerchi.

Post-print processing is surprisingly labor intensive, with many steps involved in setting up a collating job. Steps include refilling sections when pages run out, verifying proper orientation of the sheets when loaded, and ensuring that all of the sheets are in the right order and not duplicated.

"All signatures are loaded by hand into the collating machine. The operator has to make sure that the signature he is loading into the machine matches the sample hanging above the station. He then must ensure that it is loaded in the machine in the right order and correct orientation. The machine may hold up to 90 signatures; so if the job calls for 10,000 books, that station will have to be loaded over 100 times. Depending on the length of the book, there could be up to 25 signatures. This gives more than 2500 chances that a person could make a mistake on a single job, even on the most advanced machines," explains Cicerchi.

Cicerchi also says that printing the correct insert becomes even more critical for the pharmaceutical industry. "Putting the wrong insert with the product can lead to very expensive recalls and even customer fatalities. Visually checking every insert can take hours, and because documents are often printed in multiple languages it can be difficult for a user to visually determine the correctness of the sheet."

Pepperl+Fuchs is a world leader in the design, manufacture and application of high quality factory and process automation products and services. Pepperl+Fuchs pioneered the development of proximity sensors 50 years ago, and has set the standard for innovation and quality ever since.

Pepperl+Fuchs, 1600 Enterprise Parkway, Twinsburg, OH 44087; (330) 486-0001; fax: (330) 405-4710; fa-info@us.pepperl-fuchs.com; pepperl-fuchs.us.