Vision Inspection System detects deviations in barrier materials.
Press Release Summary: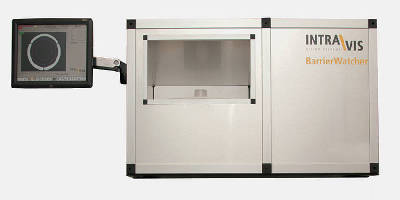 Using calibrated imaging source and camera, BarrierWatcher(TM) provides 100% non-destructive inspection of co-injected, thermoformed, and IML labeled parts. System detects deviations in ethylene vinyl alcohol (EVOH) and other barrier materials used primarily in food industry to protect contents against oxygen. EVOH defects are visible in images by dark areas and lack of EVOH is represented by light or bright areas. With software module, deviations are evaluated and results are reported to operator.
---
Original Press Release:

BarrierWatcher(TM) Vision Inspection Features High-Tech Accuracy



NORCROSS, GEORGIA - INTRAVIS, Inc., introduced at NPE 2012 BarrierWatcher(TM) - the latest in vision inspection technology to detect deviations in Ethylene Vinyl Alcohol (EVOH) and other barrier materials. EVOH is primarily used in the food industry to protect the contents against oxygen, thus prolonging shelf life.

Inspecting EVOH is challenging as defects are not visible to the human eye. Traditional manual methods to inspect EVOH are labor intensive and time consuming - requiring part cutting, soaking in iodine, and then examining the part under a microscope.

BarrierWatcher automates this process using a specially calibrated imaging source and camera - thereby making these defects very visible to the eye. With BarrierWatcher EVOH defects are easily visible in the images by dark areas and lack of EVOH is represented by light or bright areas.

Significant Features:

o 100% non-destructive part inspection of co-injected, thermoformed and IML labeled parts.

o Easy-to-use software module evaluates the deviations of EVOH and reports the results to the operator.

o Results can also be correlated to specific cavity numbers and placed into a SQL database for real time line performance.

"BarrierWatcher is extremely accurate for the detection of holes, cracks and flow lines all while reducing labor costs and guaranteeing high quality parts," said Andreas Mueller, CEO at INTRAVIS. "Our customers are using this automated system globally and report that they achieve better quality control at reduced costs," he added.

About INTRAVIS

INTRAVIS is a global leader in vision systems for plastic packaging and decoration industries. Headquartered in Aachen Germany with over 20 years of experience in vision inspection systems. INTRAVIS is a manufacturer of: BarrierWatcher, Sample-PreWatcher, CapWatcher II, and SpotWatcher. For more information please contact INTRAVIS at 770.662.5458 or visit them at www.intravis.com

More from Fluid & Gas Flow Equipment