VISION 2014: Allied Vision Presents Thunderbolt Camera Concept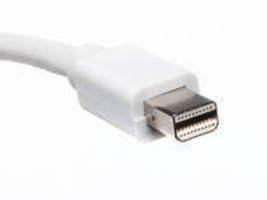 On its booth at VISION 2014, Allied Vision showcases a prototype for a camera with Thunderbolt interface. The new interface technology promises to allow fast image data transfer in multi-camera systems.



Allied Vision surprised the public at VISION 2014 with a concept study of a Thunderbolt camera. The camera manufacturer sees high potential in this new interface for machine vision, especially for multi-camera operation.



RD concept investigates technical challenges

"As a leading camera manufacturer, we investigate all new technologies to evaluate which ones we may use for future products and which not," explains Dr. Malte Kurfiss, Director Product Marketing at Allied Vision. "The purpose of this work is not only to validate technical feasibility but also to elaborate a potential product definition based on hard facts: Which application fields would such a camera address? Which sensors would be best suited? Which features would be needed? Etc." The VISION show provides Allied Visions engineers a unique opportunity to discuss these topics with vision professional and exchange ideas.



Thunderbolt, a promising technology

Kurfiss refuses to disclose whether and when Allied Vision cameras with Thunderbolt interface will be available. However, he sees high potential in the new interface. "First and foremost, the key benefit is bandwidth. Thunderbolt 2 achieves up to 20 Gb/s, that's 20 times GigE bandwidth and 4 times USB 3.0. With such a throughput, high frame rates would be possible even with high resolution sensors."



Another advantage of Thunderbolt is that like with FireWire, it is possible to network up to six cameras with each other in a so-called "daisy chain". Cameras can be connected with each other as a chain with only one end of the chain connected to the host. "This makes Thunderbolt attractive for high-performance multi-camera image-processing systems," says Malte Kurfiss.



Thunderbolt is a joint development by Apple and Intel. This new interface is becoming more and more widespread in IT and consumer electronics hardware, which means standard components such as cables will be easily available at a reasonable cost. This is an important criteria for the machine vision market.

"We look forward to discussing this technology with our visitors at VISION. Their feedback will influence our decision on whether we will pursue the development of Thunderbolt cameras in the future and how they should look like," Kurfiss promises.