Vishay Siliconix SiR662DP 60 V N-Channel TrenchFET® Power MOSFET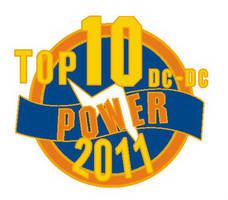 MALVERN, Pa. - Vishay Intertechnology, Inc. (NYSE: VSH) today announced that its SiR662DP 60 V n-channel TrenchFET® power MOSFET was chosen as a winner in Electronic Products China magazine's ninth annual Top-10 DC/DC Power Product Awards.

The editors of Electronic Products China evaluated hundreds of products launched in the previous year on the basis of innovative design, significant advancement in technology or application, and substantial achievement in price and performance. Vishay's SiR662DP power MOSFET was selected because of its innovation and demonstrated success in DC/DC applications.

The Electronic Products China Top-10 DC/DC Power Product Awards were presented during the 2011 Power Technology Conference in a ceremony held on Sept. 8 at the Presidential Hotel Beijing. Alice Wei, sales account manager at Vishay's Beijing office, accepted the award on behalf of Vishay.

The complete list of winners is available at the following web address: www.21ic.com/wz/CRXDQWHFA/20110904/20110904.htm.

The SiR662DP's low on-resistance translates into lower conduction losses for reduced power consumption, especially at heavy loads, while its low on-resistance times gate charge figure of merit (FOM) reduces switching losses in high-frequency and switching applications, particularly at light loads and standby mode. Its high efficiency allows designers to increase the power density of their systems and/or provide lower power loss in greener solutions.

Link to product datasheet: www.vishay.com/doc?65253.

Vishay Intertechnology, Inc., a Fortune 1,000 Company listed on the NYSE (VSH), is one of the world's largest manufacturers of discrete semiconductors (diodes, MOSFETs, and infrared optoelectronics) and passive electronic components (resistors, inductors, and capacitors). These components are used in virtually all types of electronic devices and equipment, in the industrial, computing, automotive, consumer, telecommunications, military, aerospace, power supplies, and medical markets. Vishay's product innovations, successful acquisition strategy, and "one-stop shop" service have made it a global industry leader. Vishay can be found on the Internet at www.vishay.com.

TrenchFET is a registered trademark of Siliconix incorporated.


More from Packaging Products & Equipment