Vishay's New Resistors are Suitable for Renewable Energy Power Systems
Press Release Summary: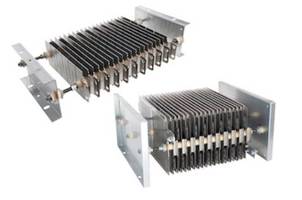 Vishay offers Grid (GRE1, GRE2, and GRE3 series), ribwound (RBEF / RBSF series) and neutral ground (NGR series) model resistors. Grid resistors offer a resistance ranging from 0.02 Ω to 240 Ω and inductance from 5 µH to 150 µH. RBEF/RBSF series resistors are suitable for pulsing applications and provide resistance from 0.010 Ω to 525 Ω. NGR series resistors are housed in IP23-rated enclosures and provide protection from ground fault, overvoltage and short circuit.
---
Original Press Release:
Vishay Intertechnology to Highlight Latest Grid and Ribwound Resistors at 2018 IEEE PES T&D Conference and Expo
MALVERN, Pa. — April 10, 2018 — Vishay Intertechnology, Inc. (NYSE: VSH) today announced that the company will be exhibiting its latest grid and ribwound resistors for oil and gas, industrial, traction, and renewable energy power systems at the 2018 IEEE PES T&D Conference and Expo, the largest and most comprehensive show in the transmission and distribution industry. Exhibiting in booth 2236 during the show, April 16-19 at the Colorado Convention Center in Denver, Vishay will highlight the Vishay Milwaukee GRE1, GRE2, and GRE3 series of high power, high current grid resistors, RBEF / RBSF series of ribwound resistors, and NGR series of neutral ground resistors.
Vishay's GRE1, GRE2, and GRE3 series grid resistors are optimized for capacitor pre-charge and discharge, dynamic braking, load testing, heater, and neutral grounding applications in locomotives, harmonic filters, and renewable energy and industrial systems. The devices offer high power ratings to 36 kW at +40 °C, high operating temperatures to +415 °C, a wide resistance range from 0.02 Ω to 240 Ω with tolerance of ± 10 %, and low inductance from 5 µH to 150 µH. Featuring double insulation for maximum cooling efficiency, the resistors can be mounted in IP00, IP20, and IP23 enclosures for indoor and outdoor use.
Ideal for pulsing applications, RBEF / RBSF series ribwound resistors are designed to meet heavy-duty requirements in systems where space is at a premium. Providing high reliability, the devices offer an all-welded construction and are available with high temperature silicone or vitreous enamel coatings. The resistors feature power ratings from 40 W to 2 kW and a wide on-resistance range from 0.010 Ω to 525 Ω, and they are available individually with simple hardware, open mounted on bracket, or mounted inside screened or outdoor-rated enclosures.
NGR series devices offer high temperature performance to +760 °C in rugged, weatherproof IP23-rated enclosures. Designed to provide ground fault, overvoltage, and short circuit protection for generators and transformers in wye (star) configurations without exceeding the temperature limitations outlined by IEEE-32, the resistors deliver extremely high line-neutral voltage to 8 kV, system voltage to 13.8 kV, and current ratings to 1,000 A. The devices offer a tied live design to eliminate floating voltages in the assembly.
More information on the 2018 IEEE PES T&D Conference and Expo is available at http://www.ieeet-d.org/IEEE18/public/enter.aspx.
Vishay Intertechnology, Inc., a Fortune 1000 Company listed on the NYSE (VSH), is one of the world's largest manufacturers of discrete semiconductors (diodes, MOSFETs, and infrared optoelectronics) and passive electronic components (resistors, inductors, and capacitors). These components are used in virtually all types of electronic devices and equipment, in the industrial, computing, automotive, consumer, telecommunications, military, aerospace, power supplies, and medical markets. Vishay's product innovations, successful acquisition strategy, and "one-stop shop" service have made it a global industry leader. Vishay can be found on the Internet at www.vishay.com.
Editorial Contact:
Paul Harrison 
Senior MarCom Manager 
Vishay Intertechnology, Inc.
Telephone: +49-9287-712808
Fax: +49-9287-712809
Email: paul.harrison@vishay.com
More from Software