Vishay's Diode Power Modules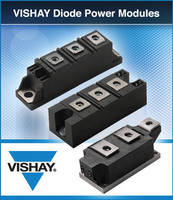 Vishay's Diode Power Modules Feature Reverse Voltage Ratings to 2500 V and Forward Current Ratings to 600 A in a Variety of Package Options

Vishay delivers a wide range of high-performance diode power semiconductor modules for demanding industrial, renewable energy, and automotive applications. The high-quality devices are offered in several topologies - standard, solder pin, screwable, and pressfit connections - with high reverse voltage ratings up to 2500 V, current ratings up to 600 A, and fast reverse recovery times down to 34 ns. Diode modules from Vishay feature an assortment of technologies - including FRED Pt®, HEXFRED®, high-performance Schottky, fast, and high voltage - in a variety of package options, such as AAP Gen VII (TO-240AA), Half-Pak, TO-244 (TO-244AB), Int-A-PAK, Magn-A-PAK, SOT-227, Super Magn-A-PAK, and T-Module.

The devices provide high-temperature performance to +175°C and single-diode, two-diode, common cathode, and common anode circuit configurations. In addition to diode modules, Vishay also offers power modules in bridge, IGBT, MOSFET, and thyristor technologies. Vishay's unmatched packaging design know-how, flexibility in customization, cost efficiency, and fast time to market make the company your reliable partner for power modules.
More from Cleaning Products & Equipment