Vision and Imaging Sensors / Detectors
Vishay Optoelectronics to Exhibit Latest Light to Digital and Analog Output Sensors at Sensors Expo & Conference 2018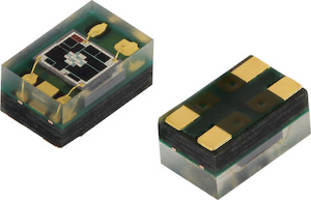 MALVERN, Pa. — June 21, 2018 — The Optoelectronics group of Vishay Intertechnology, Inc. (NYSE: VSH) today announced its technology lineup for Sensors Expo & Conference 2018, taking place June 26-28 at the McEnery Convention Center in San Jose, California. In booth 435, Vishay will exhibit its latest light to digital and analog output sensor technologies, including infrared (IR), ambient, proximity, ultraviolet (UV), and RGBW light sensors for consumer, industrial, healthcare, security, and wearable applications.
Featured Products:
• Light to digital solutions will include the fine-tuned VEML6075 UVA and UVB sensor, long range VCNL4200 and short range VCNL3020 proximity sensors, lux meter beating VEML6030 ambient light sensor, VEML6040 RGBW sensor, and five-channel VEML6095 UV, RGBW, and IR sensor for full-spectrum sensing.
• Highlighted analog output sensors will include the TSAL6100 high power IR emitter and TSSP4038 IR sensor module for light barrier systems and fast proximity sensing at distances up to 2 m; and the VCNT2020 short range reflective sensor for smart home, industrial, and office applications.
With hands-on demonstrations, visitors will be able to see for themselves how all of Vishay's sensors work, including the long-range VCNL4200 proximity sensor, which is a finalist in the 2018 Best of Sensors Expo Awards program.
In addition, SEMPLUS Corp, a developer of smart surface solutions that utilize Vishay optical sensors, will be displaying some of its technologies in the Vishay booth. For the automotive, medical, mobile, and gaming industries, SEMPLUS' optical waveguide-touch sensing capabilities combine ease of use and advanced functionality, allowing for unprecedented touch-screen interaction. The company's technology enables touch and pressure gestures on smart surfaces with multiple materials — such as vinyl, leather, wood, and aluminum — and with fingers, gloves, or any type of stylus to become functionally active for the harmonious integration of operating icons into any environment.
For over 30 years, Sensors Expo & Conference has been one of the world's largest events focused exclusively on sensors and sensor-integrated systems. More information on the event is available at http://www.sensorsexpo.com/.
Vishay Intertechnology, Inc., a Fortune 1000 Company listed on the NYSE (VSH), is one of the world's largest manufacturers of discrete semiconductors (diodes, MOSFETs, and infrared optoelectronics) and passive electronic components (resistors, inductors, and capacitors). These components are used in virtually all types of electronic devices and equipment, in the industrial, computing, automotive, consumer, telecommunications, military, aerospace, power supplies, and medical markets. Vishay's product innovations, successful acquisition strategy, and "one-stop shop" service have made it a global industry leader. Vishay can be found on the Internet at www.vishay.com.
Editorial Contact:
Bob Decker 
Redpines 
Telephone: 1 415 409 0233
Email: bob.decker@redpinesgroup.com
More from Agricultural & Farming Products