Vishay Intertechnology's T58 Series of vPolyTan™ Polymer SMD Chip Capacitors Named 2016 EE Times and EDN ACE Award Finalist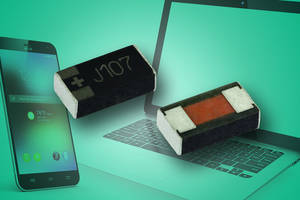 MALVERN, Pa. - Nov. 17, 2016 - Vishay Intertechnology, Inc. (NYSE: VSH) today announced that the company's T58 series of vPolyTan™ polymer surface-mount chip capacitors has been named a UBM 2016 EE Times and EDN ACE Award finalist in the Ultimate Products: Passives, Interconnects, and Electromechanical category. Designed to deliver increased volumetric efficiency for handheld consumer electronics, T58 series devices combine polymer tantalum technology with Vishay's high-efficiency MicroTan® packaging to achieve industry-best capacitance-voltage ratings in six molded case codes, including 47µF-6.3V in the compact M0 (1608-10) case and 220µF-10V and 330µF-6.3V in the BB (3528-20).
The EE Times and EDN ACE Awards showcase the best of the best in today's electronics industry. Finalists for the Ultimate Products - awarded to the most significant electronic products introduced between Jan. 1, 2015, and June 30, 2016 - were judged in 12 categories by a panel of EE Times and EDN editors, as well as industry experts. Final winners will be announced at the ACE Awards event, taking place on Dec. 7 in San Jose, California, during Embedded Systems Conference (ESC) Silicon Valley.
Leveraging patented MAP (multi-array packaging) assembly technology, T58 series capacitors provide a 25 % improvement in space utilization compared with similar devices, saving PCB space and enabling the design of smaller and thinner end products, including smartphones, tablets, and ultra-thin laptops, in addition to wireless cards, network equipment, and audio amplifiers and pre-amplifiers. In these devices, T58 series capacitors are intended for decoupling, smoothing, filtering, and energy storage applications.
The devices offer capacitance from 10 µF to 330 µF, with capacitance tolerance of ± 20 %, overvoltage ratings from 4 V to 25 V in the MM (1608-09), M0 (1608-10), W9 (2012-09), A0 (3216-18), AA (3216-18), B0 (3528-10), and BB (3528-20) case codes. The capacitors feature low impedance, low ESR from 50 mΩ to 500 mΩ at +25 °C and 100 kHz, and ripple current from 0.224 A to 1.30 A at 100 kHz, and they operate over a temperature range of -55 °C to +105 °C with voltage derating above +85 °C.
Vishay Intertechnology, Inc.,
A Fortune 1000 Company listed on the NYSE (VSH), is one of the world's largest manufacturers of discrete semiconductors (diodes, MOSFETs, and infrared optoelectronics) and passive electronic components (resistors, inductors, and capacitors). These components are used in virtually all types of electronic devices and equipment, in the industrial, computing, automotive, consumer, telecommunications, military, aerospace, power supplies, and medical markets. Vishay's product innovations, successful acquisition strategy, and "one-stop shop" service have made it a global industry leader. Vishay can be found on the Internet at www.vishay.com.
Vishay Contact:
Andrew Post
Senior Manager,
Global Communications
Vishay Intertechnology, Inc.
Telephone: 1 610 251-5287
Fax: 1 610 889-9429
Email: andrew.post@vishay.com
More from Materials