Vises offer repeatable part clamping solutions.
Press Release Summary: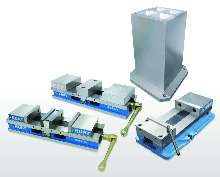 High Density Long Vise has two 4 in. capacity stations with hard jaws that provide repeatable clamping up to 0.001 in. Manual model delivers up to 6,316 lb clamping force at 70 lb torque, while hydraulic model provides 7,800 lb of force at 5,000 psi. Suited for holding very large parts, Model D810 has 10 in. jaw opening and 11,600 lb clamping force. Available in 4-face and 2-face models, ToolBlox(TM) tombstones and sub-plates provide mounting modules for vises.
---
Original Press Release:

New Kurt High Density Vises, New 10 Inch Capacity Large Part Vises and New ToolBlox Tombstones


Minneapolis, Minnesota: Kurt's 2004 IMTS Exhibit will feature a full array of new workholding products that provide precise repeatable part clamping solutions for a broad range of manufacturing requirements.

New Kurt High Density Long (HDL) Vise Has Two 4-Inch Hard Jaw Capacity Stations - Utilizes Both Hard And Soft Jaws For Maximum Flexibility
Kurt's latest high density vise has two 4-inch capacity stations with hard jaws that provide repeatable clamping to 0.001 inch. Delivering up to 6,316 lbs. of clamping force at 70 lbs. of torque for the manual model and 7,800 lbs. of force at 5,000 PSI for the hydraulic model, these vise models combine high density with heavy duty features. Designed on a rugged 80,000 PSI ductile iron body with steel components, both models provide strength, rigidity and long term accuracy while absorbing machining vibration.

Features include: hard jaws or quick-change machinable jaws available in 7075-T6 aluminum or 65-45-12 cast iron; manual and hydraulic models (easily convertible between manual and hydraulic) for use on vertical and horizontal machining centers; self-adjusting holding block for setting jaws quickly clamps same or dissimilar size parts; adjustable pre-load to reduce handle turns for larger jaw openings; lifetime limited warranty.

New Kurt D810 Vise Has 10 Inch Jaw Opening, 11,600 Lbs. Clamping Force
Designed to hold very large parts, Kurt's new D810 vise is ideal for precision clamping for both tool and die and production CNC applications. With a jaw opening of 10 inches and clamping force up to 11,600 lbs., this vise is ideal for aggressive "hogging out" operations.

Updated body style incorporates several new features making the vise easier and faster to disassemble for cleaning. Top down, four bolt design on the stationary jaw reduces vise deflection by 25 percent while allowing total disassembly of the vise without removing the body from the machine table. Special brush seals in the nut shield and protects vise screw thread from machined chips and residue.

Additional features include Anglock design insuring the movable jaw does not lift; 80,000 PSI ductile iron vise body provides rigidity and long term accuracy while absorbing machining vibration; new high corrosion resistant powder coat paint finish and same vise footprint as earlier models so both can be used interchangeably and in tandem. This vise handles most parts made of steel, iron and die cast aluminum, including production parts where datums, flatness and parallelism is important.

New Kurt ToolBlox(TM) For Mounting Vises
Kurt's new line of ToolBlox tombstones and sub-plates provide the ideal mounting modules for vises to maximize machining center productivity. Kurt now offers 4-face ToolBlox and 2-face ToolBlox. Both are made of rugged Class 35 cast iron and are ideal for mounting of vises of most sizes.

Kurt's 2-face ToolBlox sub-plates can be bolted and dowelled on either side for fast, easy setup. All vises and/or collet chucks may be mounted directly on sub-plate faces. These sub-plates also feature rotary ground surfaces to ±.001 inch. Ideal for permanently mounting vises for fast and easy setup changes on milling machines.

A full range of sizes are available including specials to fit most machine requirements.

See these and the full line of workholding products, power drawbars and precision measuring instruments at IMTS September 8-15, Booth E2732, McCormick Place, Chicago.

Or for more information, visit www.kurtworkholding.com

Email: workholding@kurt.com

Call 1-800-328-2565 for FREE brochure. Or write to Kurt Manufacturing Company, Industrial Products Division, 1325 Quincy Street NE, Minneapolis, Minnesota 55413. Fax: 612-623-3902.

Related