Vises and Jaws hold PVC-coated pipe and conduit.
Press Release Summary: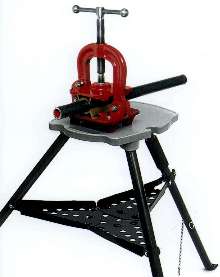 Tripod Vise (TVCOAT) Kits come with tripod, yoke vise, and jaws for clamshell, wraparound grip. Pipe Vise (PVCOAT) Kits include yoke vise and clamshell jaws for bench mounting. RJAWS and RJAWS REED provide smooth 6 in. jaws and 3-point grip. Products provide firm grip without damaging PVC-coated steel pipe and conduit used in highly corrosive environments.
---
Original Press Release:
Clamping Vises & Jaws for PVC Coated Pipe & Conduit
Reed offers solutions to grip without damaging PVC coated steel pipe and conduit used in high corrosive environments like chemical plants, piping at water and sewer companies, and electrical work. Tripod Vise (TVCOAT) Kits come complete with tripod, yoke vise, and jaws for the clamshell, wraparound grip preferred by contractors. Pipe Vise (PVCOAT) Kits include the yoke vise and clamshell jaws for bench mounting. RJAWS and RJAWS REED give smooth jaws and three-point grip suggested by manufacturers such as Robroy®. RJAWS REED and RJAWS fit yoke vises by Reed and RIDGID® respectively. In all cases, Reed uses high strength alloys in 6" long jaws to allow the firmest grip with the least damage. WHY REED? Only Reed offers the broadest line of clamping methods preferred by customers and recomnnended by pipe and conduit maniufacturers for PVC coated pipe. FOR MORE INFORMATION:
Reed Manufacturing Company
PO Box 1321
Erie, PA 16512
800-666-3691 or 814-452-3691
FAX: 800-456-1697 or 814-455-1697
Website: www.reedmfgco.com
Related