Vise Jaws provide unbreakable grip on just 3.5 mm of material.
Press Release Summary: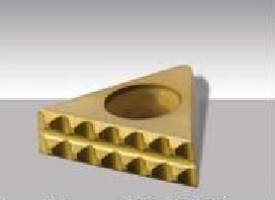 Available in widths up to 8 in., SinterGrip Vise Jaws can clamp on as little as 2 mm of surface, enabling aggressive 5-axis machining of high-value medical and aerospace parts in single setup. Jaws use serrated, carbide inserts to penetrate workpiece edge to minimal, controlled depth and exert push-down force on part. Thin parts can be machined without deformation by clamping them at 6,600 lb force to achieve penetration, then lowering force to 2,200 lb with no loss of gripping power.
---
Original Press Release:

Revolutionary Design Reinvents Machine Tool Vise Jaws for Unbreakable Grip on Just 3.5 mm of Material



Developed to enable aggressive 5-axis machining of high-value medical and aerospace parts in single setup, SinterGrip can clamp on as little as 2 mm of surface.



LEXINGTON, KY — OML's new SinterGrip vise jaws seem to do the impossible, putting an unbreakable grip on just 3.5 mm of material to allow aggressive, 5-axis machining of high-value workpieces with minimal waste material. With all but 3.5 mm of the workpiece held above the vise, SinterGrip jaws give access for machining with short cutting tools for high-rate metal removal and high accuracy in a single setup. Ideal for medical and aerospace parts, the revolutionary jaw design received a first prize for technical innovation in tools and equipment at Europe's 2013 Industrie Lyon trade fair. The patented design eliminates the need for a special vise, special tools or pre-machining of the workpiece to add a gripping feature, such as a dovetail.



Developed primarily for use with OML's MC and Genius vises, SinterGrip jaws use scientifically designed, serrated, carbide inserts to penetrate the workpiece edge to a minimal, controlled depth and exert a push-down force on the part. Thin parts can be machined without deformation by clamping them at 6,600 pounds force to achieve penetration, then lowering the force to 2,200 pounds with no loss of gripping power. The jaws can also grip equally well on as little as 2 mm of part surface if the application requires.



The jaws are available in widths up to 8 inches (200 mm) and can be installed on most vises with mechanical, mechanical/hydraulic or hydraulic clamping systems. A starter set includes the tungsten-carbide-coated jaws, retention screws for the inserts, and a pair of OML's snap-in CLAK parallels for quickly positioning a workpiece at the ideal gripping height. The carbide coating on the jaws enhances grip for secondary operations. Jaw sets are also available without the carbide coating and in styles for the user to machine to size. The serrated inserts are sold separately, with three types available for standard steels, hard materials, and aluminum.



See SinterGrip used on a hogging cut in steel: http://www.youtube.com/watch?v=pAdSz4zZs74

 

The science behind SinterGrip

The SinterGrip jaws and toothed, carbide inserts are engineered to work together to secure the part and create two types of push-down effect on it.



Each jaw has a series of triangular dovetailed pockets across the top edge into which the serrated carbide inserts are placed, secured by screws. The two vertical edges of the insert that mate with walls on the pocket have a 5-degree negative angle on them that corresponds with an angle on the walls of the pocket. Thus, clamp force on the jaws translates into a downward force on the inserts and workpiece. In addition, the mating triangular shapes self-center the inserts to ensure 100 percent clearance-free contact between the workpiece and the vise jaw to absorb, not amplify, vibration. Clamp force on the inserts spreads diagonally into the jaw, not straight into it.



The carbide inserts themselves have two rows of engineered teeth that penetrate the workpiece and produce push-down effect all their own. The pyramidal teeth are cut with a sharper angle on the lower edge than on the upper edge, causing the teeth to exert a push-down force on the workpiece.



Because the teeth are carbide, they never become dull. The number and design of the teeth vary according to the machining application, i.e., for standard steel, hard material, or aluminum. All inserts are manufactured to ISO P30:P35 standard and PVD coated. Inserts for standard steel are coated with TiN and have two rows of six teeth each. Inserts for titanium and hardened steels up to 54 HRC have two rows of five teeth and are coated with TiAlCn. Inserts for aluminum have two rows of three teeth as well as "stops" between the teeth to prevent over-penetration. Inserts for aluminum are coated with CrN/NbN.



The number of inserts placed in the vice jaw can be varied, with dummy insets available to fill the unused pockets. Penetration of the teeth is minimal and is always inversely proportional to the number of inserts used, but is typically well under 0.5 mm (0.02 inch) at 4000 kg (8818 lbs.) clamp force. Minimal penetration depth of teeth minimizes wasted material. As a bonus, the indentations on the part create locating points for re-setting workpiece, if needed, with repeatability of 0.01 mm (0.0004 inch).



Combined with OML's CLAK parallels, the SinterGrip jaws allow fast setup for first and second operations without removal of the inserts.



Lexair is the exclusive importer and master distributor in the U.S. and Canada for OML, one of Europe's leading manufacturers of modular clamping systems, tombstones, indexing tables and precision vises. To learn more about OML workholding solutions, visit Lexairinc.com or call 859-255-5001.



Contacts:

Steve Breslin

National Sales Manager

Lexair Inc.

859-255-5001



[email protected]