Viscometer uses tuning fork vibration method.
Press Release Summary: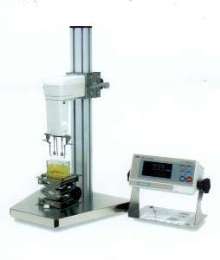 Featuring accuracy of 1% of reading, Model SV-10 offers measurement range of 3.0-10,000 cP without need to change sensor plates. Response time is a few seconds, and temperature sensor constantly monitors temperature compensation. Model SV-10 can measure viscosity of flowing samples, including liquid in turbulent flow. Drive frequency of 30 Hz allows measurement of foam samples without breaking minute foams. WinCT-Viscosity software imports measurements to PC in real-time.
---
Original Press Release:

SV-10 Viscometer


A&D's newly developed Tuning Fork Vibration Method ensures an unsurpassed High Accuracy of 1% of Reading (Full Range), and a Wide Measurement Range from 0.3 to 10,000 cP without the need to change sensor plates. The SV-10's response time is just a few seconds, and the standard temperature sensor constantly monitors temperature compensation. The standard WinCT-Viscosity software automatically imports viscosity and temperature measurements to a PC in real time. The SV-10 outperforms other viscometers in precision and in taking difficult measurements, such as measuring low viscosity or foam fluids with small samples.

o High Measurement Accuracy - Tuning fork Vibration Method ensures excellent repeatability of 1 % of reading. Not of full scale as with spindle viscometers
o Non-Newtonian Sample Viscosity Measurement - Thin sensor plates allow little deformation of sample texture
o Foam Sample Measurement - Low drive frequency of 30Hz allows measurement of foam samples without breaking minute foams and with less influence scattering larger foams
o Flowing Sample Measurement - Measures the viscosity of flowing samples, including liquid in turbulent flow, which enables field management with identical data used at the laboratories
o Viscosity Calibration - 1 or 2 point calibration is selectable in the calibration mode
o Sol and Gel Measurement - Sol and Gel sample fluid, like a starch, can be measured during the change of material characteristic
o Small Sample Size - Standard sample cup requires the sample fluid of just more than 35 ml, reducing waste - easy cleanup
o Data Collection and Graphing Software - WinCT-Viscosity (RSVisco) Software imports the measured data of viscosity and temperature to a PC and graphically displays the changes in real-time analysis

If you would like more information please call:
1-800-762-2478

More from Fluid & Gas Flow Equipment