Viscom Brings S3088 AOI with Quality Uplink to SMTAI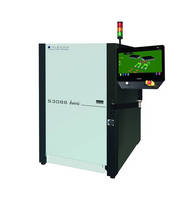 Duluth, GA – Viscom today announced that it will exhibit the S3088 AOI system in Booth #427 at the upcoming SMTA International Exhibition, scheduled to take place October 15-16, 2013 at the Fort Worth Convention Center in Texas. The system will be displayed with the unique Quality Uplink feature that provides better defect detection during post-reflow AOI, ensuring the lowest false alarm rates.



Viscom's S3088 solder joint inspection AOI is as well as its SPI 3-D solder paste inspection system based on the field proven S3088 platform, combining efficiency and user-friendliness. The new Quality Uplink feature uses available highly accurate measurement data of the paste print to optimize post-reflow automatic optical inspection (AOI) at the end of the production line. SPI measurement data is typically only used to classify paste print, allowing high tolerances of up to +/-50 percent volume.



 Viscom's new SPI-AOI Quality Uplink feature enables the use of information later in the process to assure post reflow defect detection while allowing high variability of the paste print process.



The entire Viscom team looks forward to welcoming visitors to booth #427 during the event to experience the variety of the Viscom product range. For more information about Viscom, visit www.viscom.com.

More from Electrical Equipment & Systems