Virtually Any Problem has a Solution.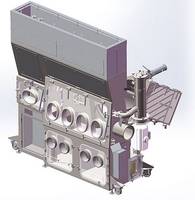 Powder Systems Limited (PSL) and C.O.P.E. (Center Of Process Excellence) will demonstrate their engineered solutions for filtration, drying and high containment process requirements at the Interphex New York trade show on 21-23 March 2017, booth 2232.
Lab scale filtration and drying process can be a real challenge…
PSL is launching the next generation of the revolutionary GFD® in North America, exclusively at Interphex New-York 2017. The GFD® is a bench top nutsche filter dryer that overcomes challenges with commonly used methods of Buchner filtration and oven drying. The new GFD® efficiently performs laboratory process development combining filtration, solids isolation, cake washing and vacuum drying all in one step. The final product is also fully recovered through a unique removable filtration basket.
With new features such as data logging, accurate control of the agitator speed and recipe input, the GFD can be autonomous and run processes without human intervention. Process data can be saved and exported for further analysis and repeatability. Process control and automation, even of the agitator raise and lower mechanism is performed via the HMI/PLC display for a direct and easy equipment usability. Now more compact and providing enhanced ergonomics, the new GFD can be integrated in fume hoods while maintaining good process visibility and reduced product exposure. Lab filtration and drying studies are made easy with the next generation GFD Plug & Play system, available with full vacuum and heating ancillaries' packages.
PSL will exhibit the next generation GFD® on their stand 2232 of the Javits Conventions Center, NY. Book a demonstration now to learn more about the new GFD's capabilities by emailing gfdsales@powdersystems.com.
Taking Virtual Reality to Reality
Join key industry leaders who will take part in the Technical Conference and attend Michelle Frisch's presentation 'Taking Virtual Reality to Reality' on Tuesday March 21, 2017 at 4:00pm. Many companies develop virtual drugs with limited access to actual laboratories or R&D development facilities. The testing of development drugs is often outsourced to qualified facilities and technicians but this can be cost prohibitive. The presentation will address such needs and how to take a process to reality. Attendees will learn how to take an infantile process to fruition thanks to the support of experts who can offer a multi-faceted approach. They will also know more about the value of having accessibility to many different types of process equipment, which ensures the best possible solution and scale-up. Michelle will present a case study about how a virtual compound was taken and developed to a formal process with identification of each critical steps.
PSL expanded expertise in process development last year with the innovative process development facility, C.O.P.E. (Center of Process Excellence). The facility is now open in the greater Philadelphia area and started providing development and process optimization for pharmaceutical, biopharmaceutical and specialty chemical organizations. Headed by Michelle Frisch and Senior Process Development Engineer, Craig Patrizio, this unique center drives innovations in process and component customization for diverse applications such as complex sterile injectable drugs for extended release. C.O.P.E. provide expertise in process automation and facility troubleshooting.
PSL developed innovative technologies for the downstream formulation of microspheres used as drug delivery devices. PSL developed the MicroSphere Refiner™ in response to the challenges faced by global drug manufacturers with other techniques such as mesh blocking, lengthy drying and Steam-In-Place (SIP) difficulties.
PSL filtration and drying solutions also include the innovative CakeStand vacuum tray dryer for direct and uniform drying; the GFD and pressured SimpleFilter Dryer for lab to pilot plant applications and a large range of Agitated Nutsche Filter Dryers that are ergonomically designed for washing and isolating solids, even in the most difficult production processes.
PSL is also a leader of high containment solutions. As an original pioneer of high containment gloveboxes and isolators, PSL developed unique containment solutions for the production of highly potent APIs including cytotoxic, oncology, hormones and many other active compounds to ensure operator, environment and product protection down to the nanogram levels.
PSL USA contact:
Michelle Frisch, MBA
Senior Technical Systems Manager
(208) 850 8477
michelle.frisch@powdersystems.com
C.O.P.E. contact:
Michelle Frisch, MBA
Managing Director
(208) 850 8477
PSL press contact:
Chris Thomas
+44 (0)151 448 7700
Company information:
Powder Systems Limited (PSL)
+44 (0)151 448 7700