Virtualization System targets offshore oil and gas industry.
Press Release Summary: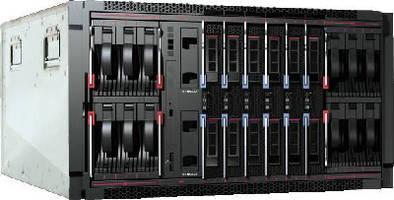 Part of Experion® Virtualization Solutions, Premium Platform leverages IBM blade server technology, enabling offshore oil and gas, refining, and petrochemical customers to maximize operations availability. By applying virtualization to industrial control systems, single server can simultaneously run multiple operating systems and applications, insulating operating systems from hardware changes, simplifying computing environments, streamlining maintenance, and minimizing hardware space needed.
---
Original Press Release:

Honeywell Introduces Turnkey Experion Virtualization System on Blade Servers for Offshore Oil and Gas, Other Industrial Customers



Newest Virtualization Solution Enhances Manufacturing by Providing Increased Protection from Hardware Failures



HOUSTON,  – Honeywell (NYSE:HON) today launched the newest Experion® Virtualization Solutions package, the industry's first turnkey blade solution that is optimized for virtualization and the needs of the process control industry enabling offshore oil and gas, refining and petrochemical customers to increase operations availability and reduce the total cost of ownership of their control system, saving them millions of dollars annually.



By applying virtualization to industrial control systems – a concept first introduced by Honeywell in 2010 – processing plants and refineries can simplify their computing environments, streamline maintenance and reliability, and reduce the amount of hardware space needed at facilities such as floating offshore oil rigs, where space is at a premium.



Virtualization is a major productivity and efficiency tool for commercial and industrial operations. Process controls typically require separate servers to support different applications – requiring additional space, hardware and significant maintenance costs.  Virtualization allows a single server to simultaneously run multiple operating systems and applications, insulating the operating systems from hardware changes, improving overall server utilization, simplifying maintenance and reducing costs.



The newest member of the Experion Virtualization family, called the Premium Platform, is based on blade server technology. It provides an alternate offering for the ultimate in lifecycle and availability features being demanded by the process industry. The Premium Platform reduces setup time by 90 percent, generates 40% more energy savings, has 22% greater density than alternative virtualized server platforms and allows recovery from a processor failure in minutes.



"Customers are demanding higher availability from their virtual environments, said Jason Urso, vice president of technology, Honeywell Process Solutions. "Virtualization solutions using blade servers offer that extra layer of reliability, but it's about more than just reducing downtime: virtualization  simplifies operations and allows manufacturers to modernize their facilities and turn them into true business assets."



The new Premium Platform leverages blade server technology from IBM. Honeywell chose the IBM BladeCenter S to power the new Premium Platform offering because of its highly integrated design especially in the area of storage, and its focus on markets where simplicity is critical. IBM's long term support along with its significant worldwide support infrastructure and the maturity of this platform were considerations in our decision.



Experion PKS is Honeywell's flagship process control and automation system used by process manufacturers around the world. It redefined industrial automation as the first enterprise-wide distributed control system designed to unify people with process, business requirements and asset management. This approach improves process visibility and safety by enabling facilities to consolidate plant equipment controls while eliminating integration problems. The open control platform can be easily maintained and upgraded if necessary



For more information, please visit www.honeywellprocess.com/virtualization.



Honeywell International (www.honeywell.com) is a Fortune 100 diversified technology and manufacturing leader, serving customers worldwide with aerospace products and services; control technologies for buildings, homes and industry; automotive products; turbochargers; and performance materials. Based in Morris Township, N.J., Honeywell's shares are traded on the New York, London, and Chicago Stock Exchanges.  For more news and information on Honeywell, please visit www.honeywellnow.com. Honeywell Process Solutions is part of Honeywell's Automation and Control Solutions group, a global leader in providing product and service solutions that improve efficiency and profitability, support regulatory compliance, and maintain safe, comfortable environments in homes, buildings and industry. For more information about Process Solutions, access www.honeywellprocess.com.



Experion® is a trademark of Honeywell International Inc.

Related