Virtual Welding Simulator offers video replay, learning levels.
Press Release Summary: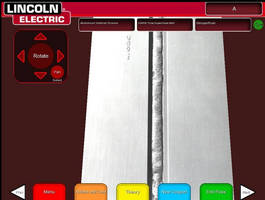 VRTEX® 360 gains features and functionality via VRTEX® Extensions(TM) software upgrade program, which delivers GMAW aluminum welding support. This includes appropriate visual and audio sound differences, shielding gas selections specific to aluminum welding, and THEORY functionality with visual and text definitions. Also, aluminum extension lets users see unique appearance of aluminum welds and addition of dross as welding defect. Video replay and learning level features are also standard.
---
Original Press Release:

Virtual Reality Simulator Expands Aluminum GMAW, Video Replay and Learning Level Welding Functionality



Lincoln Electric VRTEX® Extensions(TM) Software Upgrade Release includes exciting new features

Cleveland - Lincoln Electric has released the third upgrade in its VRTEX® Extensions(TM) software upgrade program. The upgrade includes GMAW aluminum welding support, including appropriate visual and audio sound differences; shielding gas selections specific to aluminum welding; and enhanced THEORY functionality including visual and text definitions.

With the new aluminum extension, users will see the unique appearance of aluminum welds and the addition of dross as a welding defect. An additional feature to the upgrade program is video replay, which enriches the student's welding training experience. The new feature allows the student or instructor to replay the virtual welding process on the VRTEX® 360 to review the completed weld and provide analysis on the process in multiple windows. Finally, the VRTEX® now provides learning levels as a set of tolerances for the entry, intermediate and advanced level welder. The learning levels can be set from within the instructor view on the machine.

All VRTEX® Extensions(TM) software upgrades are offered as an ongoing program designed to enhance and supplement the VRTEX® 360 with new features and functionality.

"Lincoln Electric continues to invest in the development of welding training products. This focus on aluminum expands the virtual welding experience for the student and instructor," said Deanna Postlethwaite, Marketing Manager of Lincoln Electric Automation. "Our goal is to provide a valuable simulation or virtual welding training environment for every common material or joint configuration."

With the recent changes made to the VRTEX® Extensions(TM) program, customers have the flexibility to choose only what they want, when they want it. The program now offers independent or a la carte upgrade releases and enables users to purchase VRTEX® 360 software upgrade releases based on their specific needs. Each upgrade contains bundled features that the customer can review and evaluate prior to purchasing. Users have the option to purchase or skip the upgrade if it does not fit into their welding training program.

Any customer with the base software version 1.1.10 or Upgrade 1 can purchase the releases that best compliment their welding curriculum. VRTEX® 360 Extensions(TM) upgrade packages are sent directly to customers who purchase the program. Packages include supporting literature, materials and curriculum components useful in any welding training environment.

The VRTEX® 360 upgrade program is produced under the continued development partnership of Lincoln Electric and VRSim. VRSim Inc. of East Hartford, Conn., is a leader in the development of training software and graphic simulation for industry and academia. The VRTEX® 360 is a software-based welding training system powered by the software expertise of VRSim and the welding innovation of Lincoln Electric.

The VRTEX® 360 ignited a revolution in welding training when it was initially presented at the Essen Fair in Germany in September 2009 and during the official U.S. product launch at FABTECH in November 2009. Lincoln Electric continues to lead the industry in the innovation of virtual reality welding training through the VRTEX® programs. The company also continues to spearhead programs and products dedicated to the improvement of resources and materials for the training of effective, productive and quality welders.

VRTEX® 360 Extensions(TM) Upgrade 3 (Part Number AD1390-3) can be ordered from Lincoln Electric Automation at 1-888-935-3878. For more information on the VRTEX® Extensions(TM) upgrade program please visit www.VRTEX360.com or contact The Lincoln Electric Company - Automation Division at 22221 St. Clair Avenue, Cleveland, OH 44117-2522, via phone at 888.935.3878 or e-mail at vrtex@lincolnelectric.com.

The Lincoln Electric Company, headquartered in Cleveland, Ohio, is the world leader in the design, development and manufacture of arc welding products, robotic arc welding systems, fume extraction equipment and plasma and oxyfuel cutting equipment and has a leading global position in the brazing and soldering alloys market.

Attn: Please send prospect lead inquiries only to Lincoln Electric c/o Ultimate Lead Systems, Inc., P.O. Box 739, Berea, OH 44017.

Media Contacts:
Robin Suttell - rsuttell@fallscommunications.com or 216.696.0229
Greg Coleman - greg_coleman@lincolnelectric.com or 216.383.2462

More from Optics & Photonics