Virtual Reality Headset offers eyetracking upgrade package.
Press Release Summary: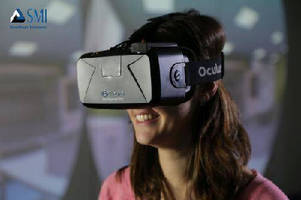 With SMI Eye Tracking technology integrated in Oculus Rift DK2 Head Mounted Display, scientists can add visual perception analysis to their research, and VR developers can create gaze interaction scenarios for VR training and education applications. Solution also provides measures on individual eye data such as eye and gaze position and eye screen distance. With these measures, 3D visualization in HMD can be personalized producing less nausea and optimized 3D vision for participants.
---
Original Press Release:

SfN14: SMI Launches Eye Tracking Upgrade Package for the Oculus Rift DK2 HMD



BOSTON and TELTOW, Germany -- SensoMotoric Instruments (SMI) raises the value of HMD based studies and applications by launching the world's first eye tracking upgrade package for the Oculus Rift DK2 HMD



SensoMotoric Instruments [ http://www.smivision.com , technology leader in eye tracking solutions, today launches a unique eye tracking upgrade package for the leading Oculus Rift DK2 virtual reality headset [ http://www.smivision.com/eyetracking-hmd . Adding SMI's leading mobile eye tracking technology enables scientists, VR developers and application providers to gain new insights and explore new possibilities for VR based applications and studies such as training, performance assessment and optimization as well as visual orientation. SMI's Eye Tracking HMD integration is available for Oculus Rift DK2 customers and comes with an C/C++ SDK and support for popular VR engines such as Unity and Vizard. Benefits can be experienced hands-on at the Society for Neuroscience 2014 (SfN 2014) meeting in Washington D.C., USA (November 15-19, 2014, SMI booth 2906).



Watch video of SMI Eye Tracking HMD demo: http://youtu.be/cx-8Xp1fxgA  



Earlier this year, SMI already showed prototypical integrations of eye tracking into the Oculus Rift DK1 at the Vision Science Society (VSS) and Siggraph conferences. The feedback was so overwhelming that SMI developed the Oculus Rift DK2 integration as soon as possible. With hundreds of real human eyes already tested in the HMD setup, the SMI package aims to provide excellent measurement quality for all relevant eye and gaze data. The C/C++ SDK supports integration into a broad range of VR-solutions and makes all important eye and gaze data available online.



With SMI Eye Tracking, scientists can add visual perception analysis to their research with the Oculus HMD. VR developers can create gaze interaction scenarios for VR training and education applications. Furthermore, the solution provides measures on the individual eye data such as eye and gaze position and eye screen distance. With these unique measures, the 3D visualization in the HMD can be personalized producing less nausea and optimized 3D vision for participants.



Eberhard Schmidt, Managing Director SMI: "SMI has always been leading in mobile and medical eye tracking applications. The upcoming VR and AR applications and the associated head mounted displays will benefit immensely from well integrated high performance eye tracking. They are a natural field of application for SMI's technology. Our latest generation modular eye tracking platform allows fast integration and excellent performance in various environments. The Oculus Rift DK2 upgrade package is just the first of a number of groundbreaking solutions we are making available soon."



The SMI ET-HMD upgrade package is based on SMI's Eye Tracking Glasses technology. SMI's leading wearable eye tracking has been proven with more than 100,000 users and provides unmatched robustness. Also debuting at SfN: The next generation SMI Eye Tracking Glasses2Wireless with a slimmer Natural Gaze[TMhead gear [ http://www.eyetracking-glasses.com .



Learn more about SensoMotoric Instruments(SMI)at http://www.smivision.com

SMI on Facebook: http://www.facebook.com/smieyetracking  

SMI on Twitter: http://www.twitter.com/smieyetracking  

SMI on Flickr: http://www.flickr.com/smieyetracking

SMI on YouTube: http://www.youtube.com/smieyetracking

SMI on Google+: https://plus.google.com/117414432133616917236



Contact SMI:

Stefanie Gehrke

Marcom Manager

stefanie.gehrke@smi.de

More from Explosives, Armaments, and Weaponry