ViroStat Introduces Monoclonal Antibody to Combat Rickettsia Rickettsii
Press Release Summary: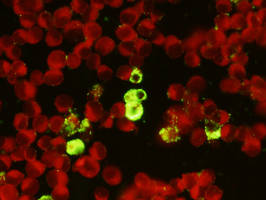 ViroStat's Monoclonal Antibody is designed to be reactive to the spotted fever group of Rickettsiae.  The Monoclonal Antibody functions in IFA and ELISA.
---
Original Press Release:
New Product Announcement from AutomationDirect -- Graphical Panel Meters
Rickettsia rickettsii is an obligate intracellular gram negative bacteria that can infect humans and other invertebrates. The most common human disease is Spotted Fever. Transmission occurs from the bite of various infected arthropods, the most common being the American dog tick and the Rocky Mountain wood tick. Typical symptoms are fever, headache and a rash. Prompt treatment with Doxycycline is recommended.
ViroStat has released a new Monoclonal Antibody to the Rickettsiae LPS. It is reactive with all members of the spotted fever group of Rickettsiae. It does not cross react with the typhus group (R. typhi or R. prowazekii). This new antibody functions in ELISA and IFA and may also function in other rapid test formats.
Go to the ViroStat website, www.virostat-inc.com to download the data sheets of these new antibodies.
ViroStat, Inc. is a primary manufacturer of infectious disease antigens and antibodies, supplying researchers and manufacturers since 1985. Specialties include high affinity antibodies to Flu A, Flu B, RSV & Strep A for use in rapid lateral flow devices as well as antibodies to food-borne pathogens and toxins. Also, many specificities to HCV, HBV, CMV & EBV for use in anti-viral HTS assays
ViroStat, Inc.
PO Box 8522
Portland, ME 04104 USA
Phone: 207-856-6620
Fax: 207-856-6864
E-mail: info@virostat-inc.com
Website: www.virostat-inc.com
More from Chemicals & Gases