Vinyl Labeling Tape features slit liner for easy separation.
Press Release Summary: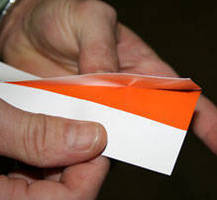 XpressPeel Premium Vinyl Tape features slit in back liner that facilitates removal of liner or backing material from sticky side of label prior to application. Tape comes in variety of colors and can be engineered to meet indoor/outdoor visual communications needs since it is resistant to UV light, humidity, water, oil, alcohol solvents, cleaning agents, and stretching. Available in widths from ½-4 in., tape is suited for pipe marking, OSHA safety labeling, 5S labeling, and color-coding.
---
Original Press Release:

Safety Labeling Gets Easier with New XpressPeel Premium Vinyl Tapes from Graphic Products



BEAVERTON, Ore. - XpressPeel Premium Vinyl Tape, a new vinyl labeling tape with a slit in the back liner for easier separation from the vinyl, is now available from safety labeling solutions provider Graphic Products, Inc.

"XpressPeel Premium Vinyl Tapes facilitate the entire labeling process, and it is a product our competitors do not offer," said Steve Hudgik, corporate marketing manager at Graphic Products.

The name "XpressPeel" speaks to the simplicity and speed of removing the liner, or backing material, from the sticky side of the label supply prior to application on any number of surfaces.

Graphic Products chose the name "XpressPeel" because the term "crack and peel," which many office suppliers use in association with backing material on other products, can be a bit misleading, Hudgik explained.

"We don't want our customers to get the wrong idea that our labels will crack and then peel after they are applied, implying early label failure," said Hudgik. "So, we chose a much stronger term in 'XpressPeel' because it truly describes the value of what this particular product has to offer - the ability to get the backing material separated from the adhesive side of a label quickly and without frustration."

Separating the liner from standard vinyl tapes can sometimes present opportunities to practice patience or moments of brief frustration, depending on one's perspective. With no slit down the middle of the backing material, the liner on standard vinyl tape is exactly the same size as the vinyl supply itself, requiring one to use sharp eyes and a fingernail or thumbnail to separate the liner from the vinyl at the corner or edge of the tape. In the case of XpressPeel, the liner simply splits in half effortlessly when bent, allowing a person to quickly peel the liner right away from the vinyl supply.

"From now on, when customers think 'crack and peel,' they will automatically think 'XpressPeel,'" said Hudgik.

XpressPeel Premium Vinyl Tapes are available in many of the same popular colors as the common Premium Vinyl Tapes that Graphic Products offers. When printed with DuraLabel ribbons, XpressPeel is also engineered to meet indoor/outdoor visual communications needs because it is resistant to UV light, humidity, water, oil, alcohol solvents, cleaning agents and stretching.

XpressPeel Premium Vinyl Tape applications include pipe marking, arc flash labeling, OSHA safety labeling, facility color-coding, 5S labeling and general labeling and signage.

Tape widths range between ½-inch to 4-inches, and each roll of Xpress Premium Vinyl Tape is 140-feet in length.

For more information on XpressPeel tapes, visit http://www.duralabelsupplies.com/duralabel-pro-supplies/xpresspeel-premium-vinyl-tapes.php.

Graphic Products is a leading label printer and supplies dealer. It has been supplying industrial label and sign printers and supplies to industries since 1970. It is the manufacturer of DuraLabel brand printers that include the handheld DuraLabel 2000 up through the wide-format DuraLabel 9000 and also carries many labelers made by other manufacturers. In addition to DuraLabel, it stocks label printer brands such as Brady, Kroy, Brother, K-Sun, Dymo and Varitronics. It also stocks supplies for discontinued label printers. Graphic Products specializes in same-day shipping to meet its customers' just-in-time delivery requirements. The Graphic Products Web site is located at www.graphicproducts.com/. Printers and supplies may be ordered by calling 1-888-326-9244.

More from Software