Vikan's New Soft Bristle Broom from Remco Designed for Food Applications
Press Release Summary: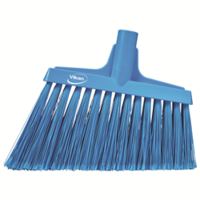 The new split angle broom distributed by Remco can sweep soft powders and water, as well as being angled to reach corners, making it capable of being used for bakery and wet cleaning applications. The brooms are made of FDA compliant polypropylene with stainless steel staples. Utilizing Euro-thread handles, the brooms come in six colors.
---
Original Press Release:
Remco Introduces Split Angle Broom from Vikan
Remco and Vikan offer a new soft split-bristle broom
(PRWEB) OCTOBER 11, 2018
Remco is pleased to announce the addition of a soft/split angle broom from Vikan to its lineup of tools for the food industry. Vikan created the broom in response to food manufacturers who prefer the design of its angled bristles and their ability to reach into corners, but require softer bristles.
Soft/split bristles are ideal for use in bakery applications where flour, sugar, and other soft powders need to be swept up. Regular bristles can press these powders into floor tiles and between grout, while soft/split bristles are gentle enough to sweep them away. They can also be used in wet cleaning applications, since the soft bristles can easily carry water and a cleaning agent.
Vikan brooms are made of FDA-compliant polypropylene with stainless steel staples. The soft/split angle broom requires a Euro-thread handle, also sold by Vikan. The thread is designed to prevent walk-off, and the handles themselves are ergonomically friendly. 
The soft/split broom will come in six colors and is available from Remco distributors. To find out more, visit remcoproducts.com.
About Remco Products
Remco provides specialized color-coded tools for cleaning and material handling where hygiene and safety are critical. The introduction of a food-safe poly shovel more than 30 years ago established Remco as an industry pioneer of hygienic design. In addition to its hygienic shovels, scoops, and scrapers, Remco features Vikan's advanced line of brushes, brooms, and squeegees. Together with Vikan, Remco supports color-coding plans by offering more tools in more colors than any other supplier. Remco also provides training and support to end users, helping ensure regulatory compliance. Regardless of an operation's size or complexity, Remco has the tools and expertise to help execute food safety and sanitation plans. To contact Remco Products, please visit them at remcoproducts.com, email them at cs@remcoproducts.com, or call 317.876.9856.
About Vikan
Based out of Denmark, Vikan is one of the world's leading manufacturers of maximum hygiene cleaning tools with 120 years of brush-making experience. They develop, produce, and sell a broad range of cleaning solutions to meet the needs of their customers and comply with regulations.
More from Test & Measurement