videoReferee-ST VAR System with Vokkero Intercoms and a Virtual Offside Line Option
Press Release Summary: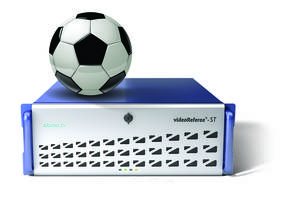 Available in 4U, 56sm and weighs 19.5Kg with four graphical system outputs
Offering gesture control via the touch screen referee monitor and also provides SDI output for replay view area monitor
Features an adjustable input delay for referee's monitor, multiviewer and special buttons for the VAR and RO
---
Original Press Release:
At NAB Slomo.Tv Launch its Most Affordable, Professional VAR system - VideoReferee®-ST
videoReferee® -ST: fair play for everyone – any game, any budget.
Torrance, USA (March 21st, 2019) - At NAB, Slomo.tv (booth SL3829), a leading international producer of cost-effective, high performance server-based video recording and replay systems will introduce a new entry level model of its Video Assistant Referee solution - videoReferee®-ST. Claimed to be the market's most affordable VAR system, the compact system - even in this base configuration - still meets all FIFA/IFAB requirements for VAR at a very attractive price of $39,950.
Built on the success of its fully-featured predecessor, videoReferee®-ST represents a technology evolution that makes sport video refereeing less expensive for professional sports teams. The obligatory use of video judging VAR systems in major soccer tournaments, such as the World / European Championships and the Champions League has spurred many vendors to develop VAR products. However, slomo.tv leads the market in terms of having more than decade of experience in VAR systems development and several generations of their VAR product.
Since 2007, slomo.tv server solutions for video judging have been successfully used in various sports such as ice hockey, basketball and canoe racing. In each application slomo.tv is recognized for its ease of intuitive simple operation with international sports leagues and federations including the Continental Hockey League, United World Wrestling and the International Handball Federation.
A critical factor in deterring VAR installations in the majority of soccer championships at any level and any league is the budget constraint. So, Slomo.tv has addressed this market need by designing a new affordable system - videoReferee®-ST.
Having 12 SDI video inputs it meets the minimum FIFA/IFAB VAR requirements of supporting at least eight cameras, one of which is High Speed. The system includes a SuperMotion option which allows configuration with SSM cameras. Super speed cameras are used in working with difficult, controversial moments in which resolution of 60 phases of movement per second is not enough and therefore having at least one such camera in the VAR system is very important.
As with videoReferee®-FC and all large slomo.tv VAR systems, videoReferee®-ST has an adjustable input delay for the referee's monitor, multiviewer and special buttons for the VAR and RO (red, green and blue). The system supports gesture control via the touch screen referee monitor and also provides SDI Output for the replay review area (RRA) monitor on the side of the playing field and broadcasters.
Also available is a hardware option for working with Vokkero intercoms and a virtual offside line option. (These options are not currently mandatory).
When it is necessary to increase the number of input channels, users can expand the capabilities of the system to 16 inputs by purchasing an additional license. Also, the system can have the optional second workplace for VAR assistant (AVAR). The second workplace allows two replay operators (RO) to simultaneously and independently work with different questionable moments or on the same moment with different camera angles. This can significantly speed up the referring process – one RO works with VAR, the other one – with AVAR.
The four graphical system outputs provide flexibility in organizing any configuration of interfaces.
This compact server is 4U, 56sm and weighs 19.5Kg.
About Slomo.tv
Established in 2007, the company has successfully introduced complete lines of high quality multi-channel professional recording and instant replay products. Slomo.tv has brought to market a number of effective solutions for tapeless video production technology. Slomo.tv systems, such as Dominator and Simple R, are widely used on major TV channels, and the company's video judging system for sports, videoReferee®, has become an integral part of many sport arenas worldwide.
Slomo.tv
For more information, please contact:
Bob Charlton
+44 20 7084 6335
Related