Videojet Debuts 'Simplicity through Innovation' with Breakthrough Technologies at Interpack 2014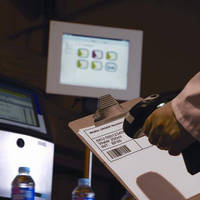 Videojet showcases intelligent print and apply labeling, thermal-ink jet, CO2 laser marking, and code detection innovations along with a concept of how future packaging design and real time variable information printing could look



Chicago, Illinois  – Addressing packaging, food and pharmaceutical manufacturers' coding and marking needs for speed, simplicity and reliability, Videojet Technologies will showcase its latest technology breakthroughs at Interpack 2014, Dusseldorf, Germany (May 8-14, 2014) in Hall 6, Stand A01. Through increased investment in research and development (R&D), Videojet has simplified design and engineering printing concepts to develop technologies that increase production efficiencies and enhance profitability. At the show, Videojet will launch the latest in print & apply labeling (LPA) innovations, intelligently designed to remove the mechanisms that frequently cause everyday operational problems such as label jams. The new LPA system was conceived to increase reliability, efficiency and productivity for outer case and bundle packaging. The event will also see the official launch of three other brand new innovations in the field of print applications. For high-resolution coding on non-porous packaging, Videojet has designed a breakthrough print solution that combines the high resolution and simplicity of Thermal Ink jet (TIJ) Technology with Methyl Ethyl Ketone (MEK) industrial ink performance. In addition, Videojet will present its advanced range of CO2 laser marking systems engineered to extend marking speeds, breaking the boundaries of traditional laser printing capabilities. Also being unveiled is an intuitively-simple Code Detection System that verifies the presence of ink jet printed codes, providing an advantage over manual sampling by increasing the sheer number of products that can be inspected.  Another exciting breakthrough is the collaboration between Videojet and sister company Esko demonstrating how the leading packaging design software can be leveraged to more easily print variable product information, with fewer mistakes, real time at the factory floor.



Chris Riley, VP Marketing, Videojet Technologies said, "Innovation that delivers real customer value needs to go far beyond printer design. At Videojet, we invest significant time and energy to gain a deep understanding of how our products are used in real-world applications, allowing us to identify potential areas for improvement. By focusing on our customers' broader needs including constant uptime, integration ease, perfect coding and simple operation, we have delivered innovations designed to take away the pain associated with printing and coding.  Through intelligently-designed labeling, coding and marking systems, our customers can leverage their printing assets to help increase their top line profits and reduce bottom line costs through virtually zero unscheduled operational downtime and reduced coding errors."



Simplicity through Innovation highlights:



New Videojet print and apply labeling (LPA) system delivers what no other labeler can



The innovative design of this system removes the mechanical adjustments, wear parts and failure points that cause everyday operational problems and downtime.  The new LPA can apply labels directly onto outer case and bundle packaging without the need for an applicator, achieving higher throughput and eliminating label jams so customers never miss a pack. Incorporating state-of-the-art technology, the entire system is electronically controlled to minimize unscheduled downtime on production lines. Simplicity through innovation



Industry's first MEK-based Thermal Ink Jet solution for non-porous substrates



Utilizing fast-drying inks including MEK-based fluids, the breakthrough TIJ solution provides high resolution print on non-porous packaging materials including films, foils, plastics, and coated stocks. The new TIJ printer offers resolutions up to four times greater than Continuous Ink Jet technology, with high levels of print quality on a wide selection of challenging substrates. Unique, patented features ensure the system provides maximum availability and is ready to print clean, repeatable codes, time and again. Simplicity through innovation



Videojet CO2 Laser Marking Systems Boost Productivity and Improve Line Integration



An advanced range of CO2 laser marking systems that deliver superior code quality across a range of marking speeds and are suitable for a wide array of substrates will be showcased at Interpack 2014. The laser solutions offer over 20,000 configuration options, providing easy integration for virtually any application. When speed is the ultimate priority, manufacturers can take advantage of new software that enables marking up to 30% faster. Simplicity through innovation



Videojet Code Detection System delivers coding confidence to manufacturers



Ideal for flat and light-colored packaging, the system provides an enhanced level of Code Assurance by helping detect common printing issues including missing, mis-positioned, and clipped codes. The system offers a simple 3-step set-up process that greatly simplifies training and minimizes changeover time.  What constitutes a good or bad code is configurable along with the number of bad codes that can be detected before a failure is indicated. Simplicity through innovation



Leveraging Videojet expertise:



Videojet and Esko combine their expertise securing fixed and variable packaging information



Videojet will also present a concept demonstration of work that can be realized in combination with its sister company Esko. Used extensively for packaging design and prepress operations, Esko's leading software solutions can also be used to manage dynamic or variable data related to the product, including nutritional information and traceability data such as production and expiry dates. For manufacturers with significant SKU complexity, Videojet will show how this variable information can be printed real time at the packaging line using a Videojet Thermal Transfer Overprinter. Simplicity through innovation



Knowledge sharing and information exchange



Videojet will be hosting a number of "by invitation only" seminars and expert sessions aimed at sharing the very latest trends and issues surrounding marking and coding and packaging in general.



In addition, Videojet will showcase further enhancements in Code Assurance by highlighting a common interface design across all its major printing technologies as well as enhancements to its CLARiSUITE™ print job creation and management software.   Manufacturers can leverage these developments to drive sustainable improvements in Overall Equipment Effectiveness by minimizing operational inefficiencies and operator errors.



Also showcased at Interpack 2014 are Videojet established coding, marking and printing innovations, including the 50 Series Continuous Ink Jet, the 6420 Thermal Transfer Overprinter  and the 2300 Series high resolution outer case printers. 



About Videojet http://videojet.com



Videojet Technologies is a world-leader in the product identification market, providing in-line printing, coding, and marking products, application specific fluids, and product life cycle services. Our goal is to partner with our customers in the consumer packaged goods, pharmaceutical, and industrial goods industries to improve their productivity, to protect and grow their brands, and to stay ahead of industry trends and regulations.  With our customer application experts and technology leadership in continuous ink jet (CIJ), thermal ink jet (TIJ), laser marking, thermal transfer overprinting (TTO), case coding and labeling, and wide array printing, Videojet has more than 325,000 printers installed worldwide.  Our customers rely on Videojet products to print on over ten billion products daily. Customer sales, application, service, and training support is provided by direct operations with over 3,000 team members in 26 countries worldwide. In addition, Videojet distribution network includes more than 400 distributors and OEMs, serving 135 countries.



©2012 Videojet Technologies Inc. All rights reserved. Videojet and Uptime Peace of Mind are registered trademarks of Videojet Technologies Inc.



More from Cleaning Products & Equipment