Video Transport Stream Processor supports MPEG-2 TS and PSI/PSIP.
Press Release Summary: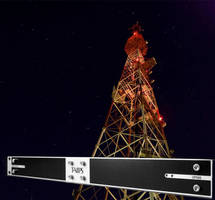 Model CP505 ATSC Processor offers ASI, SMPTE 310, and IP network adaptation and supports MPEG-2 transport streams (TS) and Program Specific Information/Program and System Information Protocol (PSI/PSIP). It is offered in Basic version, which targets applications like IP-to-SMPTE 310 and ASI-to-SMPTE 310 conversion. Advanced version also supports PID and service filtering and PSIP rebranding. Two GbE ports and application of Forward Error Correction on transmit and receive are included on both.
---
Original Press Release:

T-VIPS to Unveil Advanced Transport Stream Processor for U.S. Broadcasters at 2011 NAB



Feature-Rich Solution for Flexible Format Conversion, Increased Quality of Service and PSIP Modification

Millburn, New Jersey - T-VIPS, a global leader in professional video transport solutions for contribution, distribution and digital terrestrial television, today announced plans to unveil the CP505 ATSC Processor-which offers ASI, SMPTE 310 and IP network adaptation and advanced transport stream processing in a cost-effective, compact unit-in Booth #SU7807 at the 2011 NAB show from April 11-14, 2011 in Las Vegas, Nev. Designed specifically for the U.S. digital broadcasting market, the CP505 is ATSC-compliant with native support for MPEG-2 TS (Transport Streams) and PSI/PSIP (Program Specific Information/Program and System Information Protocol) tables.

As the newest member of T-VIPS' cProcessor family of products, the CP505 is intended for real-time processing and distribution of digital television signals in the form of of MPEG-2 TS and provides ASI, SMPTE 310 and IP input/output interfaces.

It is available in two versions: Basic version and Advanced version. The Basic version offers features and options targeting network adaptation applications such as IP to SMPTE 310 and ASI to SMPTE 310 conversion. The Advanced version may be set-up to operate with just the basic tier of network adaption capabilities, or the user can elect to employ an additional tier of advanced transport stream processing and monitoring features such as PID and service filtering and PSIP rebranding. Both versions features two GigE ports and offer the ability to apply Forward Error Correction (FEC) on both transmit and receive.

The ATSC Processor handles a single TS and features output diversity including unicast, small-cast, and multicast. In addition, the CP505 has multicast to unicast conversion capabilities. By utilizing FEC and leveraging this output diversity, the CP505 offers improved QoS and increased reliabilty.

The Advanced version has many additional features including: flexible PID (Packet Identification) and service filtering, dynamic PSI/PSIP updates, insertion of PSI/PSIP service information from PSI/PSIP generators/providers, as well as rate adaption and PID re-mapping. It also offers the ability to define new component signalling information for PIDs and add it to any service on output. This makes it possible to point to an unsignalled PID on the input port and add it to one or more services in the outgoing TS as a service component.

"The CP505 ATSC Processor offers American broadcasters a robust, cost-effective, and precise means of handling mission-critical tasks, such as filtering TV services and updating PSI/PSIP tables to ensure correct EPGs, as well as smoothly adapting between SMPTE 310, ASI, and IP/Ethernet network interfaces," said Janne T. Morstøl, President of T-VIPS Inc. "T-VIPS has designed the CP505 ATSC Processor to be extremely user-friendly, with a Web interface that allows users to easily configure and manage all their transport streams in an efficient way."

About T-VIPS America Inc.

T-VIPS, a global leader in professional video transport solutions for contribution, distribution and Digital Terrestrial Television (DTT), offers a comprehensive portfolio of powerful, efficient and intelligent solutions for processing and transporting high-quality video.

T-VIPS' close involvement in video standards bodies, leadership in JPEG2000, expertise in IP and transport stream multiplexing, processing and monitoring results in state-of-the-art technology that makes complex TV network operations simpler and preserves the integrity of high-end video streams.

T-VIPS solutions are utilized in many demanding applications, including 1080/60p, 3DTV, alternative content for digital cinema, live HD sports and news back-haul, and the transport of HDTV programming over IP networks. T-VIPS is leading the IP-based video network revolution by empowering high-profile network operators, broadcasters and post-production customers in over 50 countries with innovative solutions that deliver significant operational and financial benefits.

The privately held company is headquartered in Oslo, Norway, with Americas' headquarters in New Jersey. For further information, visit: www.t-vips.com.

More from Sensors, Monitors & Transducers