Video System can play 4K in 24, 30, and 60p.
Press Release Summary: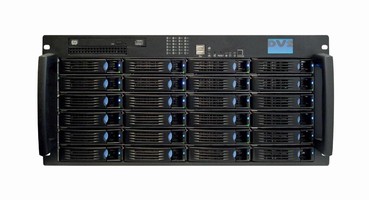 Suited for large projectors or digital cinema, DVS player Cine4K achieves up to 60 progressive fps, displaying 60p for 4K at resolution of 3,820 x 2,160. Multi-device capable unit allows to link more than one systems together to fill large screens or to create 3D projections in 4K, and facilitates development of digital cinema. Users can also utilize Cine4K to create stereo effect.
---
Original Press Release:

DVS Upgrades 4K to 60p



DVS Digital Video Systems GmbH introduces Cine4K, a new product
that can play 4K not just in 24p or 30p, but also in 60p. With this
quantum leap in quality, the new DVS player raises the bar for the
development of digital cinema.

Hanover. With the development of a 4K 60p player, DVS opens up new possibilities in digital cinema. Instead of the customary 24p or 30p, the new DVS player Cine4K achieves up to 60 progressive frames per second. 60p for 4K can thus be displayed at a resolution of 3820 x 2160,which is four times the resolution of HD.

Beyond the usual industry standards, DVS is capable of fulfilling the extreme requirements of presenting 4K material in 60p at fullresolution. Cine4K is the optimal feeder for high-end 4K projectors. The data-intensive presentation is ideal for large projectors or for digital cinema.

The new DVS player is multi-device capable - that is, more than one of these systems can be linked together to fill very large screens or to create 3D projections in 4K.

With the frame rate of 60p, motion in film is lifelike, fluid and optimally presented, such as for socalled "motion rides". In them, viewers can perceive not only perspective, but also depth in movement.

It is also possible to use Cine4K to create a stereo effect, e.g. one image in 30p for each eye in the highest resolution 4K. This too is an all-new sensation in the cinema and TV world.

Erik Balladares, Sales Manager at DVS Inc: "Our flagship CLIPSTER® already masters the requirements of digital cinema like DCI mastering, JPEG2000, DCDM, and DCP. With the new 60p player Cine4K from DVS, we emphasize our trailblazing role for the cinema of the future - playout of 4K in 60p will result in fantastic motion performed in a previously unattained level of quality."

About DVS: DVS Digital Video Systems GmbH is a premium manufacturer of high-quality hardware and software for professional film post production. Both CLIPSTER®, the company flagship, and Spycer®, the intelligent data manager, have won several prestigious awards. With its DI systems, DVS is the only company in the world that makes real-time 4K-processing possible. Thanks to DVS's long experience in the field of post production, the company is optimally prepared for the switchover to HDTV in the broadcast sector, and is equally active in the D-Cinema arena - since 2007, all DVS products meet the required standards.

In addition to the company headquarters in Hanover, DVS has branch offices in Los Angeles, California and Miami, Florida, as well as Paris, France.

More from Architectural & Civil Engineering Products