Video Switch promotes design flexibility in displays.
Press Release Summary: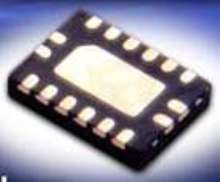 With rated bandwidth of 800 MHz, FSAV430 quad SPDT (2-to-1 multiplexer/demultiplexer) video switch operates on less than 15 A and features -75 dB OFF isolation to eliminate monitor ghosting effects. Differential gain and phase maintain stable color saturation and hue consistency over all brightness levels. Offered in DQFN, TSSOP, or QSOP packages, lead-free product is designed for switching HD YPbPr and computer RGB signals in LCD televisions and monitors.
---
Original Press Release:
Fairchild Semiconductor's New 800 MHz Video Switch Allows Full Design Flexibility for High-Resolution Displays

FSAV430's excellent OFF isolation prevents ghosting in high-resolution applications

South Portland, Maine-September 22, 2004-Fairchild Semiconductor (NYSE: FCS), one of the largest suppliers of analog switch solutions, announces the FSAV430, a high-performance Quad SPDT (2-to-1 multiplexer/demultiplexer) video switch. Its ultra-wide 800 MHz (-3 dB) bandwidth allows full design flexibility while maintaining absolute signal fidelity. The FSAV430's low-power (<15A) operation reduces power consumption in LCD monitors and portables, and its excellent OFF isolation (-75 dB) eliminates annoying monitor ghosting effects. The switch's low differential gain and phase maintain stable color saturation and hue consistency over the full range of brightness levels. In slim DVD designs for video output connection sharing, the FSAV430 is ideal for emerging high-resolution video applications including HDTV and UXGA monitors.

"The FSAV430 device addresses designers' specific challenges in high-resolution video applications," says Jerry Johnston, Fairchild product manager for analog switches. "The combination of wide bandwidth, excellent OFF isolation and low differential gain offers superb high-resolution performance for portable designs and space-constrained applications requiring small package size and low power consumption."

Fairchild's FSAV430 is designed specifically for switching high-definition YPbPr and computer RGB (up to UXGA) signals in LCD televisions and monitors. This video switch comes in a choice of ultra-compact DQFN packaging as well as traditional TSSOP (Thin Shrink Small Outline Package) and QSOP (Quarter Size Outline Package) configurations. For space-constrained designs, DQFN (Depopulated Quad very thin Flat pack No leads) offers a 75% space savings over TSSOP devices, as well as other important design benefits. For example, noise and crosstalk are reduced to a greater degree between I/O terminals due to the lower capacitance and inductance of the DQFN package, which also runs cooler than leaded package types due to the former's exposed die attach paddle underneath.

Fairchild Semiconductor offers a comprehensive selection for display applications. These components include power MOSFETs, diodes, data converters, amplifiers, LEDs, LED drivers, LCD backlight Inverter Drive ICs, FPS, LVDS, and LDOs.

These lead-free (Pb-free) products meet or exceed the requirements of the joint IPC/JEDEC standard J-STD-020B and are compliant with European Union requirements that will take effect in 2005.

Price: $1.50 each (1000 pcs) for all package configurations

Availability: Engineering samples, now; production volume, October 2004

For information on other Fairchild products, design tools and sales contacts, please visit www.fairchildsemi.com

About Fairchild Semiconductor

Fairchild Semiconductor (NYSE: FCS) is a leading global supplier of high-performance products for multiple end markets. With a focus on developing leading-edge power and interface solutions to enable the electronics of today and tomorrow, Fairchild's components are used in computing, communications, consumer, industrial, and automotive applications. Fairchild's 9,000 employees design, manufacture and market power, analog & mixed signal, interface, logic, and optoelectronics products from its headquarters in South Portland, Maine, USA and numerous locations around the world. Please contact us on the web at: www.fairchildsemi.com
More from Test & Measurement