Video Storage Systems offer capacities up to 32 TB.
Press Release Summary: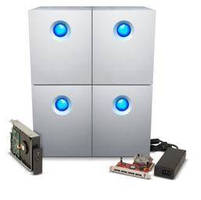 Constructed of aluminum, 4big Quadra Bundles gives users choice of combining two 4big Quadra RAID systems for up to 8 TB capacity and 400 MB/s transfer speeds, or four 4big Quadra for up to 32 TB capacity and 700 MB/s transfer speeds. Each 4big Quadra features 4 hot-swappable disks and 7 RAID modes including RAID0 and RAID5. Bundles include 3 Gb/s eSATA II PCI Express Card, standby mode to minimize power consumption, and Noctua cooling system.
---
Original Press Release:

LaCie Introduces Three High-Performance, Economic Storage Combinations for Video Professionals



Today LaCie announced three new product combinations for professionals who expect fast, high capacity and reliable storage solutions to enhance their workflow.

Leveraging the quality and reputation of the award-winning LaCie 4big Quadra-which is recognized for its high capacity, speeds, data protection, and design-LaCie premieres the 4big Quadra Bundle, which boasts huge capacities up to 32TB and fast transfer speeds up to 700MB/s. LaCie also announced today a new 8TB model of the 4big Quadra, an integral part of the 32TB LaCie 4big Quadra Bundle.

LaCie 4big Quadra is the most complete 4-bay RAID solution featuring four hot-swappable disks and seven RAID modes including RAID0 and RAID5. By stripping* two or more 4big Quadra and connecting them via eSATA - using the LaCie eSATA II PCI Express Card 3Gb/s - 4Ports - professionals now have access to the most powerful RAID configuration on the market today. The LaCie 4big Quadra Bundle gives users a choice of combining two 4big Quadra for up to 8TB and 400MB/s transfer speeds, or four 4big Quadra for up to 32TB and 700 MB/s transfer speeds.

"With the rise of HD and uncompressed HD digital content, creative professionals depend on storage solutions that will be compatible with their everyday applications, like Adobe Premiere® or Apple Final Cut Pro®, and solutions that will incorporate amazing performance, capacity, and data protection into their workflow," remarked Arnaud Pr©zelin, LaCie Product Manager for Creative Pro Solutions. "By giving professionals the ability to configure four 4big Quadra into a RAID 50 array, the LaCie 4big Quadra Bundle provides industry-leading performance without enterprise-level costs."

Featuring three options for customization, the LaCie 4big Quadra Bundle includes the choice of two or four 4big Quadra, a LaCie eSATA II PCI Express Card 3Gb/s - 4Ports, and a LaCie Rescue Kit (available with Bundles 16TB and 32TB). The Rescue Kit, which consists of a spare hard disk and power supply, is designed for workflow respect in case of common storage issue with simple maintenance, hot-swappable drive replacement and automatic rebuild.

8TB LaCie 4big Quadra Bundle:

2 x 4TB LaCie 4big Quadra, LaCie eSATA II PCI Express Card 3Gb/s - 4Ports

16TB LaCie 4big Quadra Bundle:

4 x 4TB LaCie 4big Quadra, LaCie eSATA II PCI Express Card 3Gb/s - 4Ports, and LaCie Rescue Kit

32TB LaCie 4big Quadra Bundle:

4 x 8TB LaCie 4big Quadra, LaCie eSATA II PCI Express Card 3Gb/s - 4Ports, and LaCie Rescue Kit

Compared to traditional RAID towers, the 4big Quadra Bundle has been optimized for ultimate efficiency, including an automatic standby mode to reduce power consumption of each tower by up to 80 percent compared to standard 4-bay RAID tower. Ideal for noise sensitive working environments, each 4big Quadra also incorporates the ultra-reliable Noctua cooling system, making it almost 50 percent quieter than comparable systems. Designed in aluminum by the world-famous product designer Neil Poulton, the 4big Quadra design is stackable and space-saving, fitting into modern working environments.

Also made for Sever backup, the LaCie 4big Quadra Bundle comes with Genie Backup Manager Pro(TM) for Windows® and Intego Backup Manager Pro(TM) for Mac®, supporting customizable backups and computer recovery.

NAB 4big Bundle DEMO

During the NAB show, April 20-23, LaCie will be showcasing an eye-catching structure 48 x 4big Quadra, as well as demonstrating the unsurpassed eSATA transfer speeds of the 4big Bundle with support from the AJA Kona System test. Come visit the LaCie booth #SL12711.

Availability

The LaCie 4big Quadra Bundles will be available through the LaCie Online Store and widely available through LaCie Resellers+ and LaCie Storage Partners at the suggested retail price starting at $1999.00 (excluding VAT). The 8TB LaCie 4big Quadra and 32TB LaCie 4big Quadra Bundle will be available in May. For more information, visit www.lacie.com.

About Neil Poulton

Neil Poulton was born in Thurso, Scotland. A graduate in Industrial Design from Edinburgh University and Milan's Domus Academy, Poulton first came into public view in 1989 as the creator of "the ageing pens," pens made from a "living," wearing plastic that changes color and form with use. Today, Neil Poulton designs and develops best-selling, award-winning products for a variety of international clients including LaCie & Artemide. Since 1991, Poulton has lived and worked in Paris, France. www.neilpoulton.com

About LaCie

Located in the USA, Canada, Japan, Australia, Europe, Singapore and Hong Kong, LaCie is the leading manufacturer of computer peripherals for Windows, Apple and Linux users. LaCie creates external storage solutions and color monitors that help professionals and everyday people easily manage their digital lives. LaCie has differentiated its products through original designs and leading-edge technology. Established in France in 1989, LaCie is listed on Euronext under FR0000054314 (LAC). For more information, visit www.lacie.com

* Using third party RAID 0 software such as Mac® OS or Windows® embedded.

Contact LaCie

Sales Inquiries: Direct Sales, 503-844-4500, sales@lacie.com

Reseller Sales, 503-844-4500, sales@lacie.com

1TB = 1,000,000,000,000 bytes. Total accessible capacity varies depending upon operating environment (typically 5-10% less).

Copyright © 2008 LaCie, 22985 NW Evergreen Parkway, Hillsboro, OR 97124

More from Printing & Duplicating Equipment