Video Production System includes multi-definition switcher.
Press Release Summary: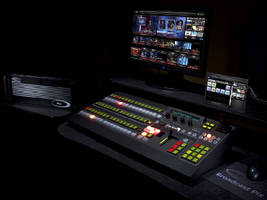 Utilizing Fluent(TM) software to integrate video and file-based content, Mica(TM) features multi-definition switcher that can mix 8 HD/SD-SDI inputs with 7 channels of internal clips, animations, and graphics. System supports up to 6 keyers and DVEs, 6 HD/SD-SDI outputs, and 2 DVI outputs. Clip Store holds up to 30 hours of H.264 and ProRes clips with audio. Housed in single 4 RU case, Mica is suited for all live productions including broadcast, corporate, government, and educational facilities.
---
Original Press Release:

Broadcast Pix Launches New Mica Live Video Production Systems



Pristine HD and Leadership Integration from $16,900

Billerica, Massachusetts - Broadcast Pix(TM) today introduced Mica(TM), a new family of live video production systems that provide pristine HD and leadership integration at an unprecedented price point. Mica will be demonstrated for the first time at IBC2011, which runs 9-13 Sept. at the RAI Centre in Amsterdam (Stand 7.B20).

The new Mica system harnesses the native HD technology from the award-winning Broadcast Pix Granite(TM) systems in a compact, cost effective package. It also includes Broadcast Pix Fluent(TM) software that tightly integrates video and file-based content, so even a single operator can create compelling live productions.

Mica includes a multi-definition switcher that can mix eight HD/SD-SDI inputs with seven channels of internal clips, animations, and graphics. There is support for up to six keyers and DVEs, six HD/SD-SDI outputs, and two DVI outputs. It also includes a 30-hour clip store and a Harris or optional Chyron character generator.

"With Mica, you pay for a switcher and get an HD control room," said Ken Swanton, president of Broadcast Pix. "But unlike a conventional control room, Mica is so well integrated, that a solo operator can combine cameras, clips, and graphics into great live video."

Pricing starts at $16,900 for Mica Desktop, which is controlled through a touch screen or mouse interface. Mica 500, at $19,900, includes a control surface with a patented device control section. Mica 1000 and Mica 2000, with larger and more powerful control panels, sport patented PixButtons, which dynamically display sources and devices in the button to switch with confidence. All four Mica models are available now.

Housed in a single 4 RU case, Mica features an I/O board with a wide back panel for easy, uncluttered connectivity. Additional Mica features include:

o Multi-Definition Switcher - each of the eight SDI inputs has a frame synchronizer and supports 1080i, 720p, or SD sources in either 50 or 60 Hz.

o Clip Store - holds up to 30 hours of H.264 and ProRes clips with audio. Integration includes AutoStart, AutoRewind, Looping, AutoNext, and AutoTransition.

o Fluent-View - displays all video and file inputs, key layers, and file libraries with four outputs. Totally customizable and can be spread across two DVI monitors.

o Character Generator (CG) - Harris Inscriber TitleMotion GS or optional Chyron Lyric Pro 8, with animation creation and easy in-show editing.

o Control Panels - familiar switcher layout extends access to file-based content. Mica 1000 and 2000 feature patented PixButtons displaying sources and file names.

o Fluent Macros - create dazzling effects with the only switcher memories that can recall specific files and devices.

o Fluent Watch-Folders - import clips and graphics from editing and graphics systems, even mid-production.

o Device Control - control ViewCast streaming appliances and AJA Ki Pro recorders.

o Optional Device Controls - cameras (Hitachi, Panasonic, Sony, and Telemetrics), audio mixers, and servers (360 Systems, Harris, and Omneon).

o Fluent Rapid CG (optional) - automate titles by connecting them to databases, RSS feeds, or custom action buttons.

Mica is ideal for all live productions including broadcast, corporate, government, and educational facilities, as well as live entertainment and houses of worship. It also provides an upgrade path to native HD production for Broadcast Pix Slate(TM) users, and can be easily upgraded to Granite(TM), which can support 2 M/E productions and offers more I/O, redundancy, and performance options. Pricing is for the Americas, and monitors are not included.

To see a short video of Mica benefits, please visit www.broadcastpix.com/Videos.html.

About Broadcast Pix

Broadcast Pix is the leader in integrated live video production systems. Its systems provide the best control surface for combining cameras, clips and graphics to create compelling live video. These surfaces enable total control of the built-in multi-format switcher, clip store, graphics system with a Harris or Chyron CG, and device controls. Its Fluent(TM) workflow enables files and data to be easily incorporated from other parts of the studio. Broadcast Pix systems are a fraction of the cost of a conventional control room to buy, staff and operate. System range from small systems controlled by a touch-screen to sophisticated 2 M/E control panels. Customers include leading broadcast, corporate, education, religious, government, webcast, entertainment and mobile studios in more than 80 countries. Learn more at www.broadcastpix.com.

Broadcast Pix, Granite, Slate, Mica, and Fluent are trademarks of Broadcast Pix, Inc. Patented. Made in USA.

More from Transportation Industry Products