Video Production Switcher comes in 1 M/E and 2 M/E versions.
Press Release Summary: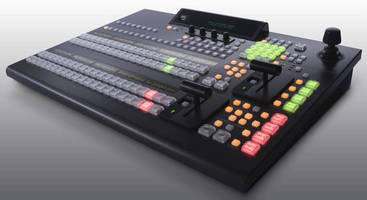 Model HVS-390HS includes 16 HD/SD-SDI inputs and 8 outputs plus HDMI output, with frame synchronizers for all inputs. It can accommodate I/O boards from HVS-300 switcher, and addition of optional I/O boards allows for system expansion to 24 inputs and 13 outputs. Also included, resizing engines on 4 inputs allow HD, SD, and PC sources to be mixed within same production. Standard features include 4 keyers per M/E, 2 chroma keyers, as well as output video recording and playback functions.
---
Original Press Release:

FOR-A Debuts 1 M/E to 2 M/E Video Production Switcher at NAB 2012



Fort Lee, New Jersey - FOR-A Company Limited, a leading manufacturer of video and audio systems for the broadcast and professional video industries, today introduced the HVS-390HS, the latest in its line of compact, cost-effective switchers. Available in 1 M/E and 2 M/E versions, it includes 16 HD/SD-SDI inputs and eight outputs (expandable to 24 inputs and 13 outputs), with frame synchronizers for all inputs. The new video production switcher will be unveiled at the 2012 NAB Show (Booth C5219), which runs April 16-19 at the Las Vegas Convention Center.

"Multiple markets have enthusiastically embraced this product line, including broadcasters, educators, houses of worship, and corporate video producers," said Pedro Silvestre, sales director for FOR-A Corporation of America. "The HVS-390HS maintains the compact footprint and operating style of our previous models, and improves the operation style with the addition of macros and pneumonic keys."

Built-in resizing engines on four inputs allow HD, SD, and PC sources to be mixed within the same production. Four keyers per M/E are standard. The HVS-390HS includes two chroma keyers. All keyers have an independent 2D DVE channel, plus two 3D DVEs (for background and keyer) for each M/E. The HVS-390HS includes 100 2D and 68 3D wipe patterns, in addition to standard cut, mix, and wipe transitions on the M/E bus.

The HVS-390HS features a highly versatile input/output set up, including the ability to use the optional input/output boards from FOR-A's HVS-300 switcher as well. It comes standard with 16 HD/SD-SDI inputs, eight outputs plus an HDMI output. With the addition of optional input/output boards, the system expands to 24 inputs and 13 outputs. Analog components, analog composite, DVI, and RGB can also be added.

The switcher is equipped with output video recording and playback functions. It includes an advanced video memory function that can simultaneously record fills and keys and saves consecutive stills when transferred from the user interface as video. Clips can be up to 240 frames long. And recorded clips and stills can be used for CG wipes.

Up to 100 events can be stored in memory and recalled with a single click during live applications. A built-in sequence function stores up to 100 sequences, with each parameter setting registered as a key frame. When used with FOR-A's HVS-39GUI, information for each key frame in a sequence can be displayed on a timeline, so the correlation of action timings can be easily verified. Sequences and events can be assigned to any of the 12 user buttons on any of the switcher's control panels.

Four still stores support JPEG, BMP, and TGA file formats, as well as animated logos. External video input and PGM output can be captured as still images, and data generated on a PC or other source can be loaded to the main unit via Ethernet or loaded via USB through the switcher's control panel.

Three control panels are available for the HVS-390HS: the HVS-391OU (1 M/E), HVS-392OU (2 M/E), and HVS-392ROU (rack-mountable 2 M/E). The 3 RU main unit includes an enlarged fan and efficient exhaust process to guarantee silent operation, which is ideal when it is installed near the operator's workspace in mobile production units or small control rooms. An optional redundant power supply is also available.

The built-in dual multi-view can display up to 16 split windows on either output, and different display patterns and sources can be set for each. Every multi-view window is equipped with title and tally display functions. Other built-in features include safety area and color bar displays, macro, color correction, and simultaneous switching (and output) of two L/R systems for 3D productions.

About FOR-A
FOR-A is a major manufacturer and distributor of video and audio systems to the broadcast, postproduction and professional video markets. For more information about FOR-A's product line, call 201-944-1120 or visit our web site at www.for-a.com.

FOR-A CORPORATION OF AMERICA, Fort Lee Executive Park, 2 Executive Drive, Suite #670, Fort Lee, N.J. 07024 Phone: 201-944-1120, Fax 201-944-1132
Web site: www.for-a.com

www.pipecomm.com
News/Blog: www.pipelinecomm.wordpress.com
Follow: http://www.twitter.com/pipecomm
Google Profile: http://www.google.com/profiles/robinhoffman7

More from Chemicals & Gases